Evoke Opens in Uptown
The steakhouse is dishing up classics along with house-made pastas, seafood, and more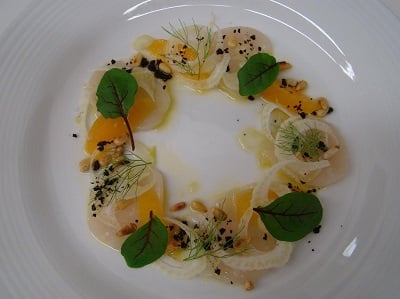 The struggle of the hotel restaurant is that it's a mismatch of quality and quantity – as in, high prices for not so great dishes. Evoke restaurant, part of the Le Méridien hotel in uptown, doesn't seem to suffer from this problem. The new steakhouse, which opened earlier this year and seats 90 guests (plus a private dining room which seats up to 24 diners), is focusing on prime and dry-aged steaks, house-made pastas and innovative, raw seafood crudos, utilizing high quality products sourced locally, regionally and abroad.
At the helm of the operations are Executive Chef Oscar La Fuente and Chef de Cuisine Robert Reinken — the menu features items such as a New York Strip that has been dry-aged in Himalayan Salt, six unique crudos delivered fresh daily, and a signature house-made gnocchi with jumbo lump crab and botargo.
"We've taken the concept of a traditional steakhouse and flipped it on its head," said La Fuente in a press release. "… We also offer a wide selection of crudos, such as diver scallops with orange, shaved fennel, tomato, pine nuts, and Kalamata olives, as well as Escolar with ruby grapefruit, celery leaves, garlic chips and sel de maldon."
Mid-century modern design influences, curious art choices, and Nouvelle Vague music add to the atmosp
here, and the Longitude 80 bar creates an uber chic environment while offering an assortment of craft beverages featuring small batch, single barrel, unique whiskeys, sparkling libations and more.
Evoke is open seven days a week, and serves breakfast from 6:30 a.m. – 10:30 a.m., lunch from 11 a.m. – 3 p.m. and dinner from 5-10 p.m.