Executive Chef Whitney Thomas Exits 5Church
She was one of the few women of color leading a prominent Charlotte kitchen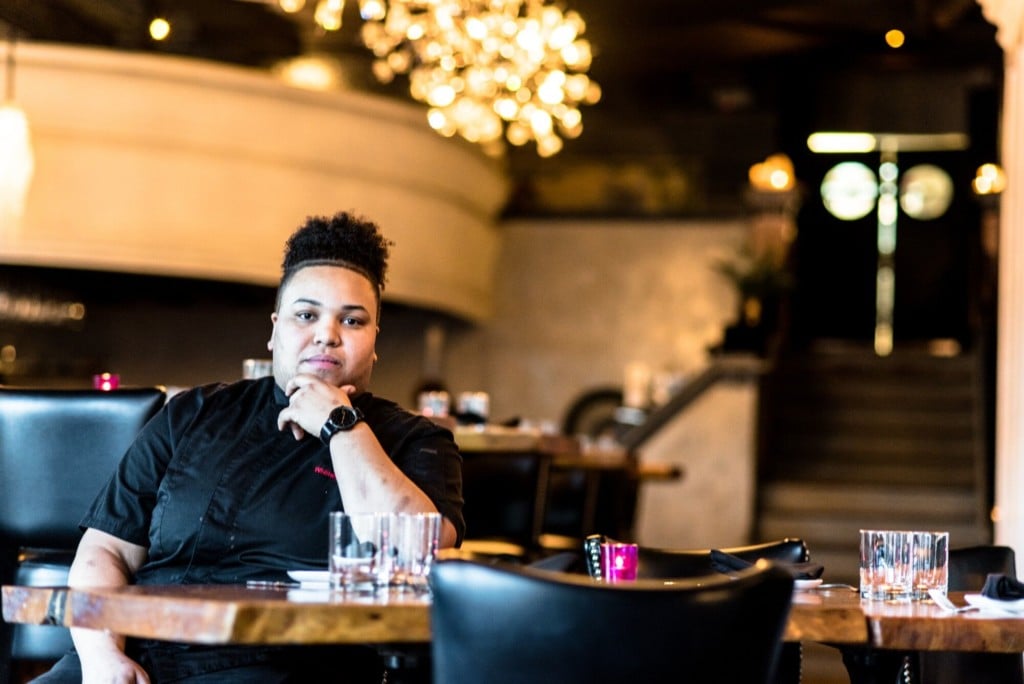 Eight months ago, Whitney Thomas became one of the most visible women to lead a top-tier restaurant in the Queen City. As executive chef for 5Church, named the city's sexiest restaurant by Conde Nast, the 30-year-old's appointment was a contrast to the boys' club-run culinary world. Her sudden separation from the establishment Monday came as just as much of a shock. 
Thomas originally interviewed for a chef de cuisine position at 5Church two years ago. Though impressed with her pedigree—which included Fahrenheit and Rooster's—5Church co-owner Jamie Lynch wasn't acquainted with her, so he hired her on as a sous chef instead.
"I had the resume and the background, but Jamie didn't know me on the scene. He said 'If you work for it, it's yours.' Within a month he promoted me to chef de cuisine," she said. A year and a half later, he announced he was stepping away from the kitchen altogether, leaving her to run the restaurant as executive chef.
"When Whitney first started with us, she had a drive and tenacity to get the work done that I admired and that we don't find very often. She came in guns blazing and did a fiery job of taking control and getting stuff done, so I gave her the nod to CDC quite quickly," Lynch said. "Over the following months she picked up a lot of financial ownership of the kitchen, so I felt she was ready to take control as executive chef."
Thomas has built a reputation on her own and her appointment only generated more buzz. She created 5Church's hottest signature dish this year, yellowfin tuna sushi tots, which are now a permanent part of the menu here and at the restaurant's Charleston location. She participated in the popular Soul Food Sessions' "Soul Sisters" dinner, which highlighted Black women chefs in the area, and Serving the Culture's sold-out "Outkast" dinner this summer. Earlier this month, she wrapped a taping on The Food Network's Beat Bobby Flay, where her seafood hush puppies were chosen to go head-to-head with another competitor before the winner faced off with Flay himself. All appeared to be going well.
But things were bumpy behind the scenes. Thomas let go a pastry chef and lost two sous chefs to other opportunities. Then a new hire was brought on without her oversight, and their dynamic was rocky. Gossip began circulating, she said, and she felt unheard by management when she brought up behavior she felt was undermining. Things came to a head Friday night when Thomas told the director of operations that something had to change. 
Yesterday, Thomas was told the company wished to terminate her employment. Thomas was stung at the swiftness of the call after two years of service. 
"They said they based the decision on the culture in the kitchen, but most of the guys came in with me. They're loyal to me," Thomas said. "It's been intense the last few weeks. They say I'm aggressive, but as a Black woman in the industry I'm used to hearing that. I asked for examples and they didn't share them." 
Lynch's counter was diplomatic. "I don't know if she's particularly more or less (aggressive) than other aggressive managers," he said. "Whitney is an immense talent and we appreciated her bringing her passion and focus to 5Church, but this one of those cases where we elected to move to a different management style. I wish her the best of luck. She'll have an amazing bright future in whatever kitchen she lands."
For now, Lynch will return to the kitchen as executive chef. "I'll be manning the stove and steering the 5Church ship. My girlfriend will be manning the farm so there won't be any lapse," he said.
Asked how this split could affect the trajectories of other Black women chefs in Charlotte, Thomas said, "I hope it doesn't affect them negatively. They should get the same chances to prove themselves as anyone else." 
Lynch seemed to echo her view. "I hope there's no fallout. My hope is her tenure as executive chef in our kitchen will empower more Black women chefs to achieve those roles in Charlotte kitchens," Lynch said. "Our decision as a group was not related to any of that and honestly, I hope this is going to open doors not only for her but for others like her to step into those roles and lead in prominent positions." 
In the meantime, Thomas has started talking to recruiters and exploring several options. She said she's interested to see what's out there. 
Still, "It's going to be a while before we find anyone who can fill her shoes," Lynch said.