Exit Stage Left
Ayisha McMillan was a driven, pioneering, accomplished ballerina with North Carolina Dance Theatre. Then, unexpectedly, she had to retire from dancing. Now, she's started a new chapter with the company, helping others achieve the same dream she did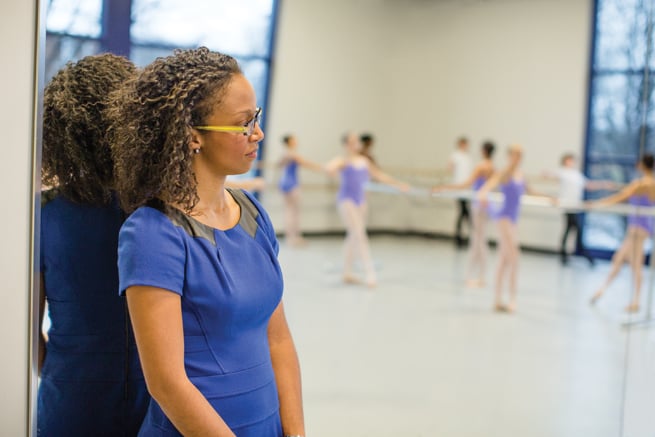 Every December, audiences flock to uptown's Belk Theater for North Carolina Dance Theatre's rendition of The Nutcracker. The company performs Tchaikovsky's classic ballet every year, and dancing the lead role, Clara, remains an honor and career highlight for the ballerina chosen. In 2004, Artistic Director Jean-Pierre Bonnefoux chose then 26-year-old Ayisha McMillan.
For McMillan, it was the pinnacle of a life spent dancing. She laced up her shoes—the soft pink satin, the wooden blocks that dug into her toes—the same way she had for years. She spun around the stage with the fairies and the Nutcracker prince, feeling the hot lights, listening to the string section swell. The disciplined curve of her arms, the strength in her legs, the smell of makeup and hairspray and the adrenaline rush of performing before a captive audience—this was what she'd worked for since her first role in the Christmas classic at 11 years old.
McMillan was the first African American dancer in NCDT's history to play Clara—an achievement of which McMillan was very conscious. "It was exciting for me to think that there might be young people out there, maybe even young black boys and girls who would never have the experience of seeing a ballet [with] any brown people [in the cast]," she says.
McMillan had only been at NCDT for two years when she was cast as Clara. She had left the prestigious Houston Ballet for the chance to dance for Bonnefoux and to compete for roles like Clara. The move paid off, and her star was ascendant. Less than a year later, however, everything would change.
Born in Minneapolis and raised in suburban Chicago in a family clinging to the middle class, McMillan and her younger sister tried every activity they could—swimming, gymnastics, cello, violin. "My parents wanted me and my sister to have exposure to the world as much as possible," McMillan says. She donned her first pair of ballet shoes when she was only two years old. Dance became her passion. "When I was nine years old, my ballet teacher asked, 'How many of you think that you might do this for a living?' My hand went up unconsciously."
"I loved the discipline of ballet," she says. "We went in every day and worked hard on these important yet subtle things over and over. I was driven by the little things. I'd come home crying because I couldn't do the piqué coupé steps properly or something. It drove everybody crazy."
McMillan exhibited that same obsessive zeal for mastering things her family considered trivial. "My dad built a swing set for us in the back yard, and I had not been able to cross the monkey bars.
I tried over and over again and couldn't do it, but I wouldn't give up. Every day for weeks, I was dogged about it. I had blisters on my hands, the sun would set but I did not relent until I figured out how to do it."
At 11, she was dancing seven days a week in group classes and private lessons and performing in a local production that required hours of practice. It was exhilarating and painful. "My feet hurt so badly because I was dancing on pointe [on her toes]. My mom would bring me food and put my feet into a bowl of ice water. I was not the most [physically] talented student in class."
But she loved it, and she was good at it. "Being comfortable on stage, projecting, and putting on a character came naturally for me."
"This little girl may seem sweet and nice but she's tough as pig iron," laughs her mother, Connie Van Brunt, who lives in Charlotte now.
McMillan played Tinker Bell in NC Dance Theatre's 2004 production of Peter Pan. It was one of several high-profile roles she played after joining the company. Photograph by Ira Learner
While she made personal sacrifices, her entire extended family chipped in money and time to advance her dreams of becoming a professional dancer. A pair of toe shoes that only lasted a week or two cost $75. A professional-quality tutu can easily run $1,000. Classes, private lessons at $110 an hour, travel, and summer workshops sometimes added up to tens of thousands of dollars each year.
When McMillan was 11 and 12, she spent the summers in an intensive workshop with the Boston Ballet. At 14, both the Houston and Joffrey ballets offered her full tuition to attend their summer intensives. She chose Houston because she felt its dormitory housing, training amenities, and broader repertoire of classical work was a better fit for her. She also liked the fact that the professional company had two principal African American dancers, including Lauren Anderson, who later became a close friend and mentor.
At the end of the summer, she received a full scholarship to live and study in Houston year-round. So at 15 she moved 1,000 miles away from her family, into an apartment with four other trainees and a chaperone. "My homesickness was compounded because I was at school with students who went home with their families every night," she says. "Those other girls became my everyday family. We did our homework. We trained a lot. We had no social life."
It was a tough situation for the family she left behind, too. "We cried a lot but tried to never let her know how deeply we all missed her," Van Brunt says. "We believed that if a door was opened, she had to walk through it."
Van Brunt was so determined not be a stage mom that school administrators confronted her about being too hands-off. "The principal of the school joked that the only time I called was to complain that they wouldn't give Ayisha real cheese," she says.
When McMillan was asked to join the professional 50-member Houston Ballet at 18, she didn't ease up on herself. "I didn't feel like I finally made it because there was still so much work to do. In fact, I don't think I ever felt like I finally made it."
Throughout most of her career, McMillan has often been the only person of color in a class, company, or production. She viewed it as an opportunity and a privilege, but she understood that some casting directors and choreographers saw it as a handicap. They had been conditioned to believe that African American ballerinas were fine to play exotic, sassy characters but could not envision them as the princesses or in the romantic leads that make up so many ballets. If and when blacks are cast in classical ballets, it tends to be as background dancers.
"Ballet is an art form so steeped in tradition, and choreographers and casting directors are accustomed to seeing beauty in a certain way," McMillan says. "I struggled with the way that I looked for the majority of my career. No one specifically said, 'Your butt sticks out,' but within the big picture, that is not the paradigm. Ballet is rough on self-image anyway, even if you are a thin white girl."
One choreographer with the Houston Ballet balked at casting her in a romantic role because there were no black males in the cast with whom to pair her. McMillan discussed the situation with her mentor Lauren Anderson, who encouraged her to go directly to Ben Stevenson, the artistic director. Stevenson encouraged McMillan to confront the choreographer. "'Tell her that's not how we do things here,'" McMillan says he told her. "'If she doesn't want you in the ballet because of the way you dance, then you're not in the ballet. But otherwise that's not how we do things.'"
She got cast in the ballet—partnered with male dancers from Chile and China.
In 2002, McMillan chose to leave the dance company that had been her home for nearly a decade. She wanted the opportunity to perform the kind of contemporary works rarely staged by the Houston Ballet. She also wanted to work with Jean-Pierre Bonnefoux and his wife of 40 years, Patricia McBride. Bonnefoux and McBride were star dancers in the New York City Ballet under the legendary George Balanchine. The couple took over NCDT as artistic director and associate artistic director, respectively, in 1996. Bonnefoux has a reputation for fairness, open-mindedness, and for creating a collaborative and supportive dance company.
"Jean-Pierre likes to say that he has a company of soloists in that everyone has a chance to be the lead," says NCDT executive director Doug Singleton. "The hierarchical structure that creates boundaries for many dancers doesn't really exist here."
Bonnefoux, 70, has also worked hard to recruit more professional dancers and students of color. When he screens dancers, he focuses on the face. "You can read so much in faces and eyes," he says. "You can tell if people are focused and passionate and ready to proceed. Ayisha was unique as a dancer. She was showing the same vivacious, youthful spirit that she shows now. She was sensational."
McMillan was cast in such principal roles as the Butterfly in A Midsummer Night's Dream and Tinker Bell in Peter Pan. She was Clara.
She was 26 when she danced the role of Clara, an age when most dancers are reaching their peaks. Later that season, she was rehearsing for George Balanchine's Serenade. She slipped—nothing she hadn't done dozens of times before. She felt some pain in her right hip, but ballet dancers are used to soreness. Like she had always done, she danced through the pain. A few months later, though, while rehearsing for NCDT's season opener, her leg went numb. This was different.
She saw seven different doctors, including three in New York, before being diagnosed with a labral tear in her hip joint. Following surgery, a week on crutches, and months in rehab, she returned to the stage. She danced without pain or limitations for a year. Her career seemed to be back on track. But something had changed.
"I didn't have the same maniacal drive for dance," she says. "I didn't care anymore about pushing my body beyond the limits." This is the same person who as a child fought through blisters just to conquer the monkey bars. A year later, at 29, several years before classical dancers tend to leave the stage, she retired from dancing. "I felt fulfilled. I felt ready to move on."
McMillan decided that she wanted more than the life of a starving artist. "Being a professional dancer is like
being a schoolteacher, only with a smaller salary."
She took a job in NCDT's marketing department and enrolled in UNC Charlotte part time, with plans to finish the degree she had started at Rice University a dozen years earlier. In 2011, she planned to enroll full time, but Bonnefoux had other ideas. He wanted her to take charge of the newly reorganized dance school. When he proposed the idea to Singleton, the executive director says his first reaction was, "Why didn't I think of this?"
The North Carolina Dance Theatre School of Dance began 20 years ago when the company moved to Charlotte from Winston-Salem. It is the only school in the state affiliated with a professional dance company.
For two decades, the company and the school operated out of leased spaces. In June 2010, NC Dance Theatre moved into the state-of-the art Patricia McBride and Jean-Pierre Bonnefoux Center for Dance uptown on North Tryon Street. Today, its 700-plus students range in age from 3 to adulthood and take classes from beginner to pre-professional.
A lot has changed for McMillan personally and professionally since her last performance. She convinced her mother, stepfather, and sister to move to Charlotte five years ago. In 2011, she married photographer Jeff Cravotta. But she still exhibits that unmistakable dancer's carriage—the ramrod straight posture, elevated chin, and slight turnout of the feet—as she strolls the hallways. In workdays that often stretch 10 to 12 hours, she develops curriculum and standards; oversees class schedules, program planning, personnel matters, and auditions; and raises money.
She recently traveled to Washington, D.C., Philadelphia, New York, Chicago, and Memphis as part of NCDT's 13-city audition tour in search of young dancers she believed had the necessary drive and foundational training for the summer intensive study program.
Being principal of the school also means communicating with parents and students. When they complain that the training does not include enough jumps, leaps, or twirls, it's McMillan's job to explain that the school is a training academy, not a performance or recreational dance school. "True training in dance takes time, persistence, and discipline. We do things that are very purposeful," she says. "This is not a bouncy room."
Even if students and parents do everything that is asked of them, McMillan must sometimes tell a parent that their child may not be cut out for ballet or has gone as far as he or she can. "It's my job to say, 'I don't see this person in this particular career.' I hope they take away from their training the discipline and what they learn about themselves when they commit and see what they can do."
That no-nonsense approach is precisely why Lisa Walker-Snyder enrolled her daughter Kristen there five years ago. "I really believe in their program," says Walker-Snyder. "So many times I have Kristen in things where everybody gets a trophy. At NC Dance, you get what you earn and some of the toughest teachers are the most revered."
A week before Christmas, a packed house is at Belk Theater for the Saturday matinee of The Nutcracker. The scene backstage is constant motion. Props and scenes are being readied. Dancers get in a final stretch or twirl. More than a hundred performers, mostly students from the School of Dance, have been transformed into supporting cast members for Clara, the Snow Queen, and the Plum Fairy. Many of the performers—students and professionals—are African American, Latino, or Asian, seemingly cast without regard to race.
Ten-year-old Kristen Snyder is being fastened into the oversize gray costume for her role as Medic Mouse. In 2007, her mom took Kristen, then 5, to see The Nutcracker and watched her become spellbound by the pageantry. "She turned to me and said, 'I'm going to dance in that one day,'" Walker-Snyder recalls. "She had danced before and didn't care for it much, but The Nutcracker filled her with music. She came home and played it over and over again. She and my husband danced to the Sugar Plum Fairy song nightly for at least six months."
Kristen joined the cast at 9, the minimum age to be in the production. Last year, she danced in each of the 12 performances. In between her first time in the audience and her stage debut were years of ballet classes, thousands of hours of practice and countless missed parties, sleepovers, and outings. She hopes all the hard work and sacrifice will result in a professional career like it has for McMillan.
"Being in The Nutcracker brings an incredible sense of purpose and commitment. The company counts on them to be there and many children rise to the occasion," McMillan says as she makes her way through the maze of dressing rooms and sets. "I've been in The Nutcracker since I was 11 years old. I've worn their little slippers or big slippers, so I can see myself in all of them.
"I don't miss being on stage, but I sometimes feel nostalgic when I hear the music. It feels good to live vicariously through the dancers and my students. But it's their turn now."
Melba Newsome is a freelance writer in Charlotte.