Experimenting in the Kitchen
Chef Tom Dyrness shares some secrets to success before next week's Fire in the City semifinals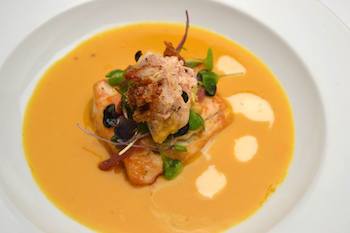 Next Monday, September 22, Tom Dyrness, executive chef at Mama Ricotta's Restaurant, will compete in the semifinals of Fire in the City. The event is part of the Got to Be NC Competition Dining Series, which takes place in five regions of the state throughout the year and concludes with the five winning chefs competing in the Final Fire round in Raleigh.
Each night of the competition two chefs go head to head in a single-elimination, blind-dinner format. The catch is, they must incorporate a secret North Carolina ingredient in their dishes, and the ingredient isn't revealed until noon on the day of competition. The chefs then work with their teams to conceptualize and execute three courses. Guests purchase tickets and judge the six-course menu by scoring each dish on their smart phones.
In his first round, on August 19 versus e2, Chef Dyrness received a couple of familiar ingredients considering Mama Ricotta's Italian focus—Uno Alla Volta cheese and Windcrest Farms tomatoes. But on his second round, September 8 versus Passion8, he got a couple of curves with Joyce Farms pheasant breasts and Cackalacky Cheerwine Sweet Sauce.
On his way to the semifinals, Dyrness reflects on his past two battles, what strategies he used, and how those culinary principles play out in the kitchen at Mama Ricotta's every day and can translate to the kitchens of all home cooks.
——
Dyrness doesn't compete alone. His three-person team includes Chef Paul Cruz from Bad Daddy's Burger Bar and Anthony Soriano, a friend of Dyrness and the executive chef at Ballantyne Country Club. The three chefs share ideas and work together to execute various aspects of a single dish. Sharing ideas and cooking collaboratively are helpful practices for both professional chefs and home cooks.
After the mystery ingredient is revealed, Dyrness first considers what flavors work well with that ingredient. The competing chefs have a pantry to pull from for the night. For the first dish in his first round, Dyrness paired mozzarella cheese and heirloom tomatoes with arugula pesto, olive oil, and crostini. "You want to epitomize the secret ingredient," he says. "You don't want to downplay it at all. The secret ingredient is the star."
Dyrness then develops a prep list and plan of attack. He and his team divvy up tasks and play to each other's strengths. For these events, Dyrness relies on familiar dishes, techniques, and flavor combinations that he's comfortable presenting. "That's my mind-set," he says. "I've got to stick with what I know and execute what I know instead of doing something that may not come out." The same theory applies when throwing a dinner party at home. Cooking dishes with confidence is a better strategy than stressing out over something unfamiliar. And a list, both for shopping and for the day's prep schedule, is a helpful guide.
Part of the mission of the Got to Be NC Competition Dining Series is to raise awareness about local products. No replacement exists for starting with fresh, high-quality ingredients. If the ingredients are of poor quality, then the chef must try to make up for that somewhere along the way. But if the ingredients are top-notch, then they don't require much alteration. For example, for Dyrness' first course in his second round, he used N.C. flounder that arrived from the coast that morning or the day before. He incorporated the barbecue sauce into the crème fraîche and made the pheasant into a salad with cracklins that topped the fish. The flavors complemented the fish, but no one aspect overpowered another. Dyrness sees it as his duty to farmers and fishermen to present the fresh produce, meats, and seafood to the best of his ability. "They do the best they can to raise that animal or vegetable," he says. "It's our responsibility."
For recipe inspiration, Dyrness suggests consulting popular food sites on the Internet, such as Food Network and Epicurious, and visiting area restaurants. The Wooden Vine, The Asbury, and Mimosa Grill (whose executive chef Jon Fortes is the defending Fire in the City champion and will compete in the other semifinal round September 23) are all on his list of places executing creative dishes well. "There are … restaurants that do a great job with cutting-edge stuff," he says. "Go out to eat and experiment."