Exploring Baucom's Nursery
The first event in Mecklenburg County Cooperative Extension's new series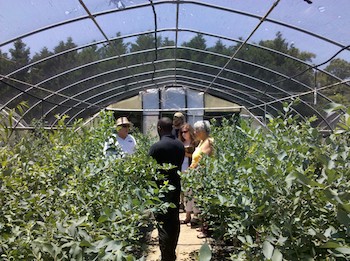 David Threatt reaches down and picks up a packet hanging from a blackberry plant. Inside the packet are predatory mites. The mites will come out of the packet at the plant's base and work their way up through the plant's leaves, devouring harmful pests such as thrips and whiteflies. The sachet full of mites, produced by Koppert Biological Systems, is a natural defense mechanism against pests that eliminates or reduces the need for pesticides.
Threatt, propagation manager at Baucom's Nursery just off of W.T. Harris Boulevard in east Charlotte, has been working here for 42 years. He's propagated hundreds of thousands of azaleas and roses, but fruits and vegetables are new to him.
"This is a different animal," Threatt says. The wholesale nursery recently began growing fruits and vegetables for resell and donation. And they are trying to grow them naturally. Threatt is 60 years old, and he plans to work until he's 68. Within his remaining eight years at the nursery, he wants to do his part in helping to wean the plant industry off of chemically based fertilizers, pesticides, and fungicides.
"We'll learn a lot from this year," he says. "It won't come overnight."
Today he's guiding a group of six people on a tour across a fraction of Baucom's 250-acre wholesale nursery. The 67-year-old family business, now in its third generation of ownership, also has about 400 acres in Cabarrus County. It supplies azaleas, geraniums, roses, crape myrtles, and hundreds of other bedding plants, trees, and shrubs to Home Depots, landscape companies, and other retail outlets. This spring, the business hired 40 to 50 seasonal employees. The crew worked 12-hour days to get products where they needed to go on time.
Baucom's is an important piece of local agriculture here in the Charlotte region and an appropriate place for the first tour in the Exploring Local Agriculture series organized by the Mecklenburg County Cooperative Extension. Since the nursery is wholesale, many members of the general public are unfamiliar with its operations.
It's encouraging to see a business as large and established as Baucom's trying new things. Years ago, a trend continued for five to 10 years, Baucom says, but today trends change every year or two. Much of Baucom's business is now made up of branded varieties, such as Encore azaleas, Knock Out roses, and Black Diamond crape myrtles. Today's consumers are more educated, and they want specific varieties with proven traits.
Although most large-scale bedding plants and shrubs still require chemicals, the naturally raised produce trend is gaining attention on local and national levels. And the more established nurseries that try it, the more of a chance it has to grow into something much bigger than a short-lived trend.
For more information on future Exploring Local Agriculture tours and other events, visit the Mecklenburg County Cooperative Extension website. See a few photos from the Baucom's Nursery tour below.
Blackberries ripening in the greenhouse. The greenhouse's plastic has been removed to prevent overheating.
The 'rebelski' variety tomatoes do especially well in greenhouses.
Greenhouse tables are filled with plants that have been "stuck," as Threatt says. "Sticking," in greenhouse-speak, means to transplant seedlings into soil to begin growing the plants. Mums and poinsettias have already been "stuck."