Exploring Summer Camps
Keep the kids busy as they learn valuable lessons in cooking, gardening, nature, history, and art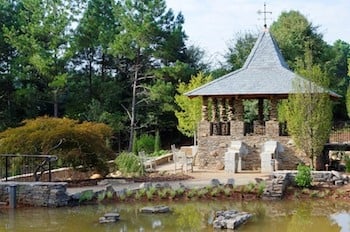 Now is the time to make sure the kids have summer activities lined up. In addition to traditional camps, area gardens and businesses offer opportunities for kids to expand their knowledge of nature, gardening, cooking, and culture.
Daniel Stowe Botanical Garden has a lineup of themed camps, all taking place on the garden grounds in Belmont. Several options this year focus on current exhibits and the newest garden addition, Lost Hollow: The Kimbrell Children's Garden, which opened this past fall. From tea parties and fairy wands at Princess Camp to castle ruins and knights at Medieval Camp, the activities encourage imagination. Garden Camp and Nature Camp focus on understanding the world around us. In conjunction with the ZimSculpt exhibit, ZimCamp explores the art, culture, and geography of Zimbabwe. For dates, pricing, and further details, click here.
Wing Haven Gardens offers two summer camps that give kids a chance to explore the garden grounds. Both of the camps are half-day, one for rising first-graders and one for rising second- through fifth-graders. Both groups will have a chance to get their hands dirty, planting and playing with hands-on activities. Campers will meet the gardens' newest resident chicks and learn about urban chicken care. Registration deadlines are June 10 for the younger camp and June 18 for the older camp. Click here to learn more and register.
For the future chef in the family, two local businesses offer cooking camps. Flour Power Kids Cooking Studios, located in Quail Corners shopping center and winner of a 2014 BOB Award from Charlotte Magazine, offers week-long, full-day camps throughout the summer. Each camp is themed; some topics include holiday dishes, specialties from across America, and "All you Knead is Love" (doughs, breads, and baking). For those kids who think they want to own a restaurant, one camp focuses on the ins and outs of the business, including restaurant design, small-business operation, and of course menu development. Click here for a full lineup. (Spots are filling up quickly.)
The second lineup of cooking camps is offered by Chef Alyssa's Kitchen. Known for her cooking classes for adults, Alyssa Gorelick and her team have also developed classes specifically for children and teenagers. Each camp is a week long and runs from 9 a.m. to 1 p.m. at Atherton Market in South End. Each day has a different theme, such as basic kitchen skills, pizza, tacos, barbecue, burgers, and baking. Lead instructor will be Kerri Harbour, a graduate of the Baking and Pastry Arts School at Central Piedmont Community College. Click here for more information.