Fahrenheit's Grand Entrance
Rocco Whalen opens new restaurant 21 floors above uptown streets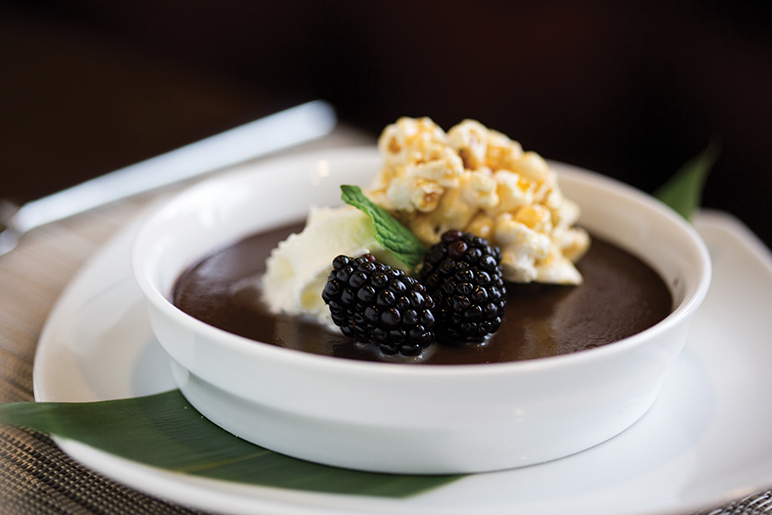 Day after day last fall and winter, workers lugged equipment into the freight elevator and up to the 21st floor of the Skye Condominiums. For years, the building had been an unfinished blemish in the uptown skyline. But some people, including celebrity chef Rocco Whalen, saw it for what it could be. In early March, the rest of the city was invited to see the results of that vision, as Whalen opened Fahrenheit. The modern, 8,600-square-foot restaurant has seats for 200 and offers breathtaking, 360-degree views of the city.
Butter poached lobster rolls
Fahrenheit, the first edition of which is in Cleveland, Whalen's hometown, specializes in new American cuisine. But the one-time Fat Chef star wants to showcase Charlotte's local flavors. As the restaurant was being built, Whalen and his team worked to confirm deals with places such as Cloister Honey, Tega Hills Farm, Goat Lady Dairy, Prestige Farms Chicken, and Grateful Growers Farm.
Whalen's butter poached lobster rolls ($13), a dish he brings from Cleveland, make for a rich appetizer, showcasing the sweet shellfish on a toasted, buttery roll. The stars of the starters, however, are the sweet potato biscuits ($12), complete with minced lobster meat and Neese's sausage gravy sandwiched in the middle of the dense, sweet roll.
From seared tuna ($32) with fried rice and house-made green curry to a coffee and mustard crusted pork tenderloin ($26) set on whipped sweet potatoes with macadamias, Whalen creates far-reaching flavors with mostly local ingredients. Traditionalists will also be thrilled with the selections here: The pizzas, including the pepperoni with fennel ($18), are made New York-style. Meanwhile, the butter poached lobster mac & cheese ($32) is not your typical American classic with a crispy top and tons of cheese; instead the huge chunks of lobster elevate it to the entrée menu. A rendition of milk and cookies ($8)—which includes a tiny cast iron skillet, a warm chocolate chip treat, and a cup of milk—makes for a playful end to the meal.
Through a glass window, diners can catch a glimpse of Whalen's kitchen (the chef says he plans to split his time evenly between Charlotte and Cleveland). And the wood-paneled ceilings and red glass lights give a cool, trendy feel. The top 40 music—with songs from Taylor Swift, Eminem, and Justin Timberlake—blaring through the eatery, however, detracts from the classy setting.
Still, Fahrenheit will surely fit into Charlotte as a destination restaurant for out-of-towners wanting a view of the city, or for local Charlotteans looking to enjoy a celebration high in the sky.