Fahrenheit's New Food Truck Serves Up Hawaiian Street Fare
And you can find it in parking lots across Charlotte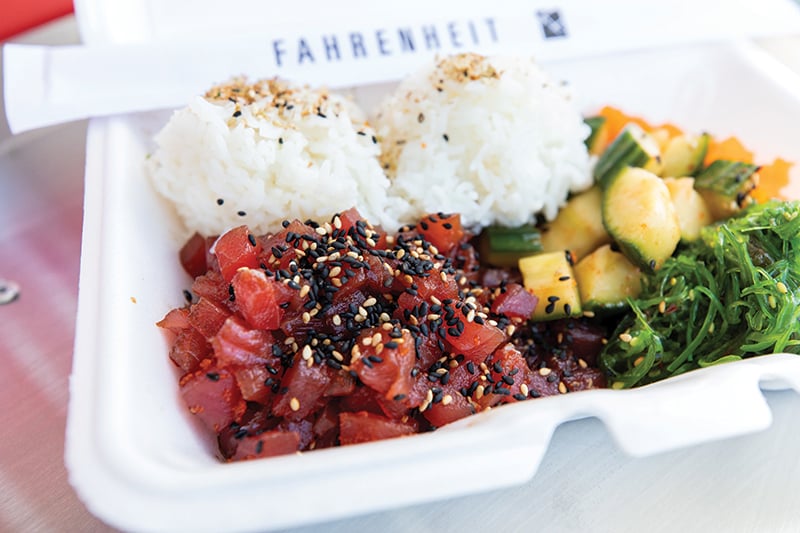 At 21 stories, Fahrenheit is one of Charlotte's most popular places to dine on a rooftop. When COVID-19 invaded the city this spring, Executive Chef and Director of Operations Dave Feimster and his team made the difficult decision to temporarily close their restaurant on South Caldwell Street in Second Ward. But instead of a complete shutdown, they put their operation on wheels and brought Hawaiian street fare to customers in a little red food truck they call roof.top21.
"It was actually built in late December, pre-pandemic," Feimster says. "We were going to keep it a surprise and use it for catering and special events, but then the pandemic happened, so we thought, 'Let's get it out on the streets and start feeding people now.'"
roof.top21 hit the pavement in April with a limited menu of handheld, Hawaiian-inspired street food. "We've been taking it to a lot of apartment complexes because it's a great way for residents to stay safe and still get restaurant food," Feimster says. The Fahrenheit team also joined the "Feed the Soul" initiative to help feed frontline health care workers during COVID-19. On Thursdays in April and May, members delivered 300 meals to Novant Health and Atrium Health's main hospitals.
The food truck menu includes Kalua (Hawaiian barbecue) pork, a poke bowl, a spicy chicken katsu sandwich, and Kalua pork crinkle fries. "Hawaiian food is so trendy right now," Feimster says. "Everyone loves chicken katsu; turn that into a sandwich, and you've got the Hawaiian version of the Nashville hot chicken sandwich. Kailua pork is barbecue, but Hawaiian-style. All of this is a play on 'local' Hawaiian."
Feimster, who has earned the nickname "Sushi Dave," lived in Hawaii for seven years and owned the restaurant Sushi En Fuego. In 2012, he got a call from his old friend Rocco Whalen, who was about to open Charlotte's first open-air rooftop restaurant. Feimster came on as executive chef and crafted a menu that emphasizes seafood with Asian flair. "Japanese food and Hawaiian food go hand in hand," he says. "It's a big melting pot over there. I learned from my Filipino cooks and friends, so when I came back over here I had a real heavy hand with Asian food. I've been doing poke bowls before they were even cool."
Fahrenheit reopened for dine-in service in late May, but Sushi Dave has no plans to abandon roof.top21—or let the food truck menu get stale. "That's just where we started, but I don't want to be pigeonholed to Hawaiian street food," he says. When he offered lobster grilled cheese—with gruyere, brie, and Maine lobster—as a special, it sold out immediately. Now it's on the daily menu.
"I came up with it because one of our most popular dishes at Fahrenheit is the lobster mac & cheese," he says. "With roof.top21, you're getting Fahrenheit food, just on the ground level. Not everyone can make it up here to this high-end place, but everyone can get to a food truck."