Fall cooking classes, truffles, Jagermeister, and more
Quite the round up of food events this week ...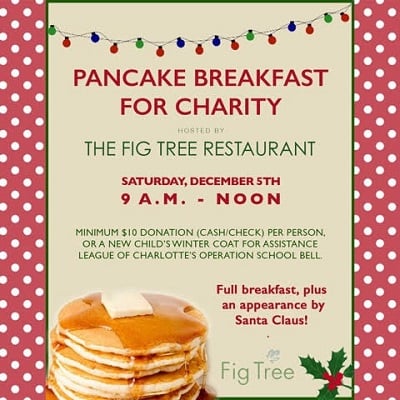 Truffles and turkeys and liquor – Charlotte has something for every taste this week when it comes to food.
Blue Restaurant & Bar: Tomorrow, Friday, November 13, head to Blue in uptown for their Raffaldini Wine Dinner, starting at 6:30 p.m. For $49.95 per person, guests will be treated to a five course dinner with wine pairings. Dishes include seared jumbo scallops over green apple risotto; porcini dusted beef with sweet potatoes, and much more. Call 704-927-2583 to reserve your spot.
_____________
Defiant Whisky: On Friday, Oct. 23, the makers of Defiant Whisky began hosting "Destination Dining," a series of festive evenings overlooking North Carolina's South Mountains. Bring friends and loved ones to enjoy four-course gourmet meals featuring some of the region's top catering chefs every Friday evening through November 20 at Camp Golden Valley in the Golden Valley region of Bostic, NC. The dinners include passed hors d'oeuvres, a starter course, main entrée, and a dessert, as well as complimentary Defiant Whisky tastings. Space is limited and reservations are on a first come first serve basis to those 21-years old and older. Doors open at 6 p.m., and dining occurs from 7 to 10 p.m. Reservations are required. To reserve your seats for any of the available dinner dates visit Defiant Destination Dining and buy tickets here. The menu for tomorrow, October 30's dinner includes slow roasted pork osso bucco and spicy spaghetti squash soup. For questions, call 828-245-2041.
_____________
Passion8: On Saturday, November 14, at 11 a.m., head to Passion8 for a three course cooking class built around a "twisted" Thanksgiving. Traditional dishes like turkey and potatoes will get Chef Luca's special treatment. Cost is $45 per person; reservations are required. Call 704-910-3161.
_____________
Earl's Grocery: Mixologist Bob Peters will be back on Saturday, November 14, hosting a class called "Breaking the Jager Code" featuring, you guessed it, Jagermeister. Guests will learn how the German liquor should be used and be able to taste Peters' concoctions. Starts at 2:30; no reservations required.
_____________
Sur La Table: If you love cooking, you surely know about Sur La Table – and you may or may not know that the store just opened on November 4 at Northcross Commons Shopping Center. To celebrate, the location will be offering customers the opportunity to take cooking classes at reduced prices – as low as $10 and a reduction of 50% off the regular class price. Head to the calendar for a full outline of classes. We personally love the Healthy Fall Cooking class on Saturday, November 14 at 2:30 p.m. and Monday, November 16, at 11 a.m. for only $33.96 per person.
____________
Vivace: Executive Chef Mike Suppa has created five dishes to showcase truffles at Vivace from Monday, November 16, through Saturday, November 21. The specials are available a la carte or as a prix fixe meal of $75. Options include carpaccio of veal with grilled scallion polenta, brown butter, burgundy truffle, and vincotto; parmesan gnocchi with black truffle, madeira demi; and pancetta wrapped rabbit loin with white truffle, rosemary stracciatella, and cannellini bean ragu. Call 704-370-7755 to reserve your dinner spot.
_____________
The Gallery: On November 26 from noon to 4 p.m., head to The Ballantyne Hotel for a bountiful display of seasonal salads, decorative displays, carving stations to regional accompaniments, decadent desserts, and live entertainment. The cost is $75 per person, $35 for children ages 5 to 13; and free for children younger than 4 years. Pricing does not include tax or 23% service charge. Private dining rooms are available for larger groups. Reservations are required for all dining on Thanksgiving, so to reserve your spot, call 704-248-4100 or visit the website.
____________
​The Fig Tree: Want to scarf down some pancakes for a good cause? Of course you do! On Saturday, December 5, from 9 a.m. to noon, head to The Fig Tree Restaurant for a pancake breakfast for charity. The minimum $10 donation (cash/check) for each person (OR you can donate a new child's winter coat) will go toard Assistance League's Operation School Bell Program which provides clothing for children in need. There will be pancakes, eggs, sausage, coffee, juice AND Santa Claus will make an appearance!