Famous Adjacent: That $125 million will cost you, Mr. Richardson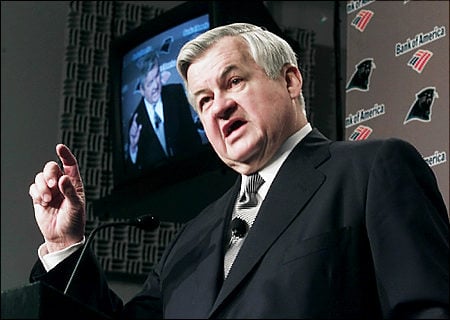 Hello, Mr. Richardson. There's no reason why you'd remember me, but we have met before. It was years ago while filming a Bojangles' commercial. I was the tall guy that worked in the art department? No? I've been described by the editor of this very magazine as "Ben Affleck, but goofier?" Still no? It's okay. I didn't think you'd remember.
I don't know if you've noticed, but public opinion hasn't been terrific lately ever since you asked for $125 million dollars from Charlotte taxpayers. Now Big Cat, (Can I call you Big Cat?) I'm not going to pretend I understand how big business works. As my wife can attest to, I am not "Good with Money." What I do understand is that I have attached my ego to this team you've built, and I would like to see the team stay in Charlotte forever. My sincere hope is that in some far distant future, two things that have withstood the test of time are the Carolina Panthers professional football team, and the statue built in my likeness for winning a Pulitzer. (Maybe for this very column!)
But with grave sincerity, I write to you now because I have a proposition, and I'd like you to consider it carefully.
I believe you should get the money you want from Charlotte. No one shall ever complain, and said transaction will be done with handshakes and smiles. But in return, when you pass away (fingers crossed, many years from now) you give ownership of the team, and all it's rights to the city of Charlotte. It's not completely unheard of, look at The Green Bay Packers. They've been around since you were in middle school, and they seem to be doing just fine. I know you're not big on speeches, but imagine the reaction after you dropped THAT F-bomb! (In this case, the f in F-bomb stands for fiscal) You're probably concerned about your children and grandchildren. What will they do? How will they be as obscenely wealthy as you? Truth be told, I don't have a good answer for that. As I stated previously, I'm terrible with money. Bankrupt NBA players shake their heads in disbelief at some of my financial decisions.
But think about what my proposal buys you.
You won't just be a legend in Charlotte; you'll be the legend in Charlotte. The goodwill gained gives you carte blanche to do whatever you want. You could shank a guy on the 50 yard line during a game, and everyone would say, "That's just Jerry being Jerry. Sometimes fools need to get smoked."
Your name would be in the conversation for greatest owners ever. Curly Lambeau in Green Bay. Wellington Mara in New York. And if you consider my proposal, Jerry Richardson in Charlotte. That's good company. No one wants to be linked with the guy that moved the Baltimore Colts to Indianapolis in the middle of the night or God-forbid Jerry Jones. Do you think there are children who say, "When I grow up, one day I'm going to be like Jerry Jones!" I can assure you, they do not. Because Jerry Jones is creepy looking, and he's an ass.
You seem like a man concerned with legacy. Every bit of municipal property in this town would be named after you. Richardson Park. Richardson School for Higher Learning. Jerry Richardson Blvd. The Charlotte Department of Transportation would be named CDOT. (Some things wouldn't change.)
Please take your time making a decision. Although, it appears you've already made up your mind. I'm quite serious about my idea, Mr. Richardson. It's tough to tell with me sometimes, because I have sincerity issues. (Wink!) But you need to give this some thought. It's a slam-dunk. I understand you might be confused as to what one may look like as this is also home to the Bobcats. See what I did there?
Your new best friend,
Sean Keenan
Famous Adjacent is a twice-monthly column written for the Revue blog by Charlotte comedian Sean Keenan. Find him on Twitter at @turbosweet.