Fan Takes Stage After Saosin Singer's Flight to Charlotte Canceled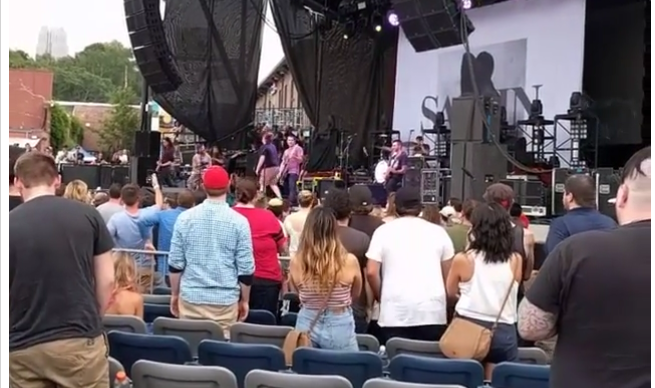 IT WAS A PECULIAR SITUATION, and Saosin members were quick to point that out. Singer Anthony Green's flight to Charlotte was canceled on Tuesday, shortly before the band took the stage for the Taste of Chaos tour's Charlotte Metro Credit Union Amphitheatre date. Bassist Chris Sorenson repeatedly thanked the audience for what he called an "awkward situation," as vocals were left out for a few of the set's songs and others had a member of opening act The Early November fill in.
And throughout the set, the band prompted audience members to come to the stage to fill in themselves, with the caveat that someone knew the words to a given song. Ethan Lindley, of the Wake Forest band Education in Reverse, decided to take them up for the offer for the 2003 tune "They Perched on Their Stilts Pointing and Daring Me to Break Custom." And the audience rose to its feet to support Lindley. See a clip of that below.
"Thank you, guys, for sticking this out," said bassist Chris Sorenson, following another song without a frontman. "We figured we wanted to play, no matter what, even with how awkward or weird it was. But we've had a good time, so who cares?"
The concert also featured Charlotte-based Taking Back Sunday and indie rock outfit Dashboard Confessional. Green is set to perform with Saosin at Wednesday's date in Alpharetta, Ga.