Farewell, Romare
The Mint gives Charlotte one last look at the master ... and it's FREE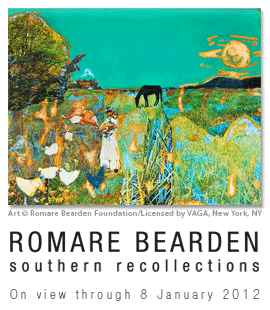 He came in with a bang in 2011, and he's leaving with just as much fanfare.
The city's been on one big Romare Bearden bender for the past few months. If you somehow missed one of the shows (The Mint Uptown, the Gantt Center, Melberg Gallery) or one of the concerts (at Knight Theater or UNCC) in his honor, you might consider getting out more.
This weekend is your last chance to see the Mint's Romare Bearden: Southern Recollections, and you can see if for FREE on January 7-8 during a weekend of celebration, music, food, special programs, and more.
The public is also invited to contribute to Memory Train: Celebrating Community through the Power of Remembrance, a video collage of residents' reflections inspired by the exhibition.
Highlights of the weekend include Memory Collage (Saturday from 10 a.m. – 5 p.m.) where participants can use patterned papers, fabric scraps, colored pencils, and markers to collage a favorite memory and A Farewell to Romy: An Ode to Romare (Sunday from 4:30 – 5 p.m.), in which local slam poet Quentin Talley performs an original poem.
All events happen at the Mint Museum Uptown, 500 South Tryon Street. Learn more.