Farmers Market Finds: 3 Different Greens
Challenge yourself in the kitchen with these unusual tastes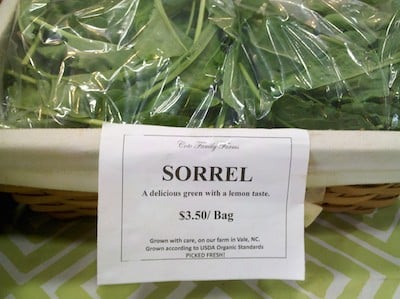 A stroll through Atherton Market on Saturday morning turned up some interesting greens. The best part about purchasing them at the market: The vendor is happy to tell you how to use them.
Sorrel. Coto Family Farms in Vale grows produce according to USDA Organic standards. The farm's booth had several offerings on Saturday and a sign encouraging customers who see something unfamiliar to ask about it. One item was sorrel. Karin Coto offered a leaf to sample. It has a strong lemon taste—fresh and summery. Coto combines it with her lettuce mix for salads. She also suggests cutting it up and mixing it with olive oil, Kalamata olives, and feta to serve alongside hummus and pita.
Broccoli Raab (aka Rapini). You've likely seen this green on a restaurant menu or TV cooking show. The plant produces edible, leafy stalks and compact clusters of yellow flowers. Coto suggests sauteing it with olive oil and garlic for a simple side dish. Some of her customers add pasta and grilled chicken for a one-dish meal. It also works well when sauteed with onions for some added flavor and used in a frittata.
Dandelion. The greens of the dandelion plant are bitter, warn the folks at The Gardener's Table booth as they pass out samples. But when prepared properly, they can make a healthful addition to your plate. Blanche the greens and combine them with kale to temper the bitterness and add some variety to your usual helping of greens.