Farming Firsthand
Volunteer and internship opportunities at Windcrest Farm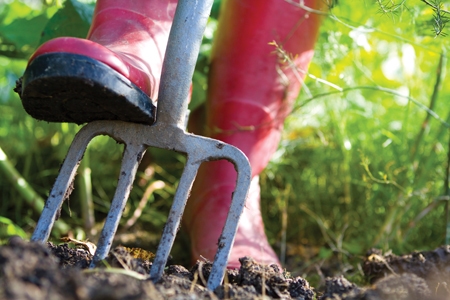 It's the first week of February, and Mary Roberts in planting.
It's still cold outside, but inside her greenhouses, she's starting seeds and readying for spring. As long as it doesn't snow, she says, everything should be fine.
"We're very excited and very hopeful," she says.
Roberts is entering into her 11th year at Windcrest Farm, a 14-acre USDA certified organic farm in Monroe that grows things as common as cucumbers and tomatoes and as unexpected as loofah sponges and baby ginger. When harvest time comes, Roberts often needs some help, so she's created opportunities for people in the surrounding area to get their hands dirty and receive something in return.
Roberts offers a variety of Community Supported Agriculture programs or CSAs, but the most involved is her Harvest Share. A couple of people will have the chance to help Roberts harvest, one on Monday and one on Friday, and take home a personal portion of the fruits, vegetables, flowers, or herbs that are in season.
"When we harvest, that's our payday," Roberts says. "And hopefully it will be somebody else's payday, too."
For those people interested in a more complete on-farm experience, Roberts also offers three internships for the 2015 season. Interns are required to work a minimum of 16 hours on the farm every week. Each intern will focus on a specific area: flowers, herbs, or vegetables. Three of Roberts' past interns have gone on to start their own farming operations. Others have participated in the internship without a clear mission of what they would do with the experience afterward; they just had an interest in local, organic agriculture and wanted to immerse themselves in it.
"By the time they get finished here, they're part of the family," Roberts says.
Numerous volunteer opportunities also come up throughout the season. Daily farm requirements, such as seeding, weeding, planting, mulching, watering, and harvesting, ensure that there's always something to do.
To many who are new to farming, one of the most surprising day-to-day components is the repetitiveness, Roberts says. But even doing the same tasks day in and day out is a lesson. Eventually people learn how to complete each task more efficiently.
"It's my nature to explain why you're doing what you're doing and why it connects to the bigger picture," Roberts says. "Everybody learns something that they take back into the community."
To learn more about hands-on opportunities at Windcrest Farm, visit any of the links above or email Mary Roberts at mroberts@windcrestorganics.com.