Fashion Distraction: Spring 2010 Bridal Runways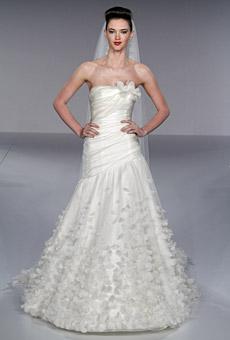 I'm introducing a new, recurring category to the posts here on Shop Talk. "
Fashion Distraction
" posts will direct you to stuff happening online or in print that are worth taking a break from work to peruse. What better way to start off this new, addictive category than with something totally frilly, frothy, and day-dream worthy:
The Spring 2010 Bridal Runway Shows
!
Is there anything more fabulous than watching bridal gowns float down the runway? No. No there isn't. It's pure decadence in fashion form. I couldn't wait to get myself to a reliable internet connection long enough to peruse the dresses that were debuted at bridal market this past week and weekend.
It would be foolish of me to try and name favorites… there are far too many and my head is swimming with all the dresses I would like to call my own (Yes, I got married a year a half ago, but a girl can dream), so just go,
take a look
, and let me know which looks you are loving and which ones you'd rather had stayed on the drawing board.
You can comment here on the blog, or you can
tweet
at me
@jenntgrab
to let me know which dresses you'll be wearing in your dream tonight!