'Fast 6' Event, Fashion Parties, Kiss Anchor Island, and More May 24-26 (Memorial Day Weekend 2013)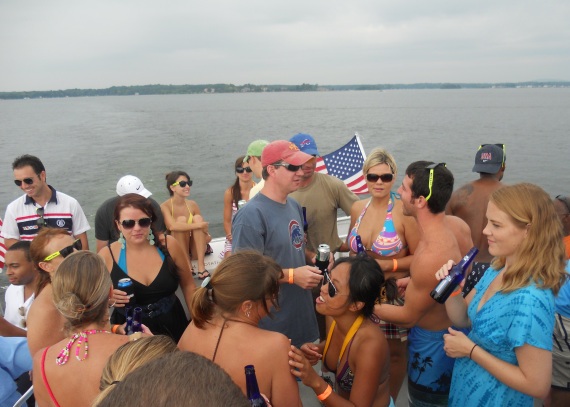 Enjoy some fun in the sun, as well as in the club, during this holiday weekend. And take time to remember the brave men and women in our military.
Also, as you likely know,
Food Lion Speed Street
is underway in Uptown through Saturday night.
Click here for details
.
Friday, May 24
BBQ and Beer Bash
Featuring live acoustic music on the garage door patio, free barbecue buffet, one complimentary draft beer, and drink specials such as $2 PBR and $3 shot of any liquor with a $3 Miller Lite purchase. All proceeds from the cover charge and donations will go to supporting our troops through the USO of North Carolina. 6-11 p.m. $5.
Sip Charlotte
, 200 N. Tryon St.,
sipcharlotte.com
.
Fashion Is In The Air
The pre-show (6 p.m.) will feature live jazz by 5th and York, along with a silent auction and vendors. Fashion show (7:45 p.m.) will feature entertainment, models, designers, boutiques, dancers, and more. Proceeds will benefit A Child's Place. Admission $15-$40; VIP $100.
Villa Antonio Ristorante
, 14825 Ballantyne Village Way,
villaantonio.com/ballantyne
,
divine-expressions.co
.
Fast & Furious 6 Car Show and Premiere Event
Movie ticket holders will receive a free
Fast 6
poster and movie swag, and will be eligible to win other prizes. Get your photo taken with models, test drive new cars, and enjoy music by the DJ. 7 p.m.-1 a.m.
Crownpoint Stadium 12
, 9630 Monroe Rd.,
facebook.com/events/616296605064250
.
Saturday, May 25
Kiss Anchor Island 2013 (weekly event)
This Lake Norman party series returns, kicking off Memorial Day weekend and running through Labor Day weekend. Cruise on the yacht with Kiss 95.1 FM personalities while enjoying music, cocktails, and fun in the sun. There will also be meet-and-greet opportunities with popular musicians and prize giveaways. 8:30-9 a.m. cruise registration and yacht shuttle pick up at
Fox & Hound Huntersville
, 8711 Lindholm Dr.; shuttles to yacht will start at 9:15 a.m. Cruise departs from
Morningstar Marinas at Kings Point
at 10 a.m. and returns at 2 p.m. $10.
kissanchorisland.com
.
Annual Memorial Weekend Bar Crawl
Bar hop between the three hotspots at District 300.
Phoenix
, 6-8 p.m.;
Cosmos Café
, 8-10 p.m.;
Re:Public
, 10 p.m.-2 a.m. Music by DJ Ngenius, DJ 360, and DJ Paradime. $20.
District 300
, 300 N. College St.,
barcrawl2013.eventbrite.com
.
Passport For Fashion: The Awards
If you missed the show last month, come meet the trendsetters who are being honored with awards, including best hair stylist, make-up artist, male model, female model, and more. Enjoy complimentary hors d'oeuvres and champagne, and prizes will be given away. Presented by Charlotte Seen. 7 p.m. Free.
Silk at Enso Asian Bistro and Sushi Bar
, 210 E. Trade St.,
ensocharlotte.com/silk
,
charlotteseen.com
.
Signature Saturdays
Kick back at this posh venue, and enjoy live jazz by Tragik Soundz, followed by hip hop and R&B spun by DJ Shogun. Drink specials include $6 martinis, $3 bottled beers, and $99 Moët bottles, and order from the pizza and pasta bar until midnight. Presented by Eddietainment. 9 p.m.-2 a.m. Free until midnight; cover charge after.
Vapiano
, 201 S. Tryon St.,
vapiano-charlotte.com
,
eddietainment.com
.
Interference: EDM Pop-Up Party
Music by DJs Dom and Daniel's Jack. Tickets will be given away to the upcoming party with Borgore and Andy Moor. 10 p.m.-2 a.m. Free until midnight; cover charge after.
Phoenix
, 300 N. College St.,
phoenixofcharlotte.com
.
Sunday, May 26
Sunday Funday (weekly event)
Missed the Saturday boat party? Well, they're taking the yacht out on Sundays too, now through Labor Day weekend. Cruise the waters of Lake Norman amid two levels of opulent amenities, including a second-story slide. Bring your swimsuit and jump on in. Presented by Ragin' Uptown-Luxury Yacht Charters and Channel 96.1 FM. Registration starts at 1 p.m. at
Hickory Tavern
, 9010 Harris Corners Pkwy.; shuttle to boat leaves at 1:30 p.m.; cruise is 2-5 p.m.
cruisethelake.com
,
sundayfundayonlkn.eventbrite.com
.
The Day Off Day Party
It's two parties, two levels, two bars, two DJs, and celebrating the birthdays of Gemini. Day party goes 3-9 p.m., followed by the after-party. Presented by Six Figure Entertainment. $10 and up.
Celebs Restaurant and Lounge
, 445 W. Trade St.,
celebsrestaurant.com
,
sixfigureentertainment.com
.
Summer Kick-Off
Celebrate America's freedoms, featuring the dueling piano players who'll be ready to play any patriotic song, summer jam, or Memorial Day request. Drink specials include $3 Miller Lite bottles, $4 Bacardi, and $10 24-ounce hurricane drinks. 7 p.m. Free.
Howl At The Moon
, at EpiCentre, 210 E. Trade St.,
howlatthemoon.com/charlotte
,
hatmcharlottememday.eventbrite.com
.
No Work On Monday, Play Hard On Sunday With DJ Jazzy Jeff
The legendary DJ returns to Charlotte. Presented by The Sol Kitchen, Dynasty 5, and RoundTable Ent. 10 p.m.-2 a.m. $20 in advance; VIP tables, party@suitecharlotte.com.
Suite
, at EpiCentre, 210 E. Trade St.,
suitecharlotte.com
,
thesolkitchen.com
.
Verify dates, times, prices, and other info at the web addresses listed for each event.