Father's Day Festivities
Celebrate the day for all things Dad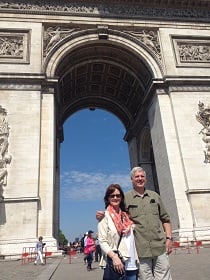 Father's Day is happening this Sunday, June 15, and what better way to treat Dad than to feed him? He doesn't want another tie, trust me.
Fleming's Prime Steakhouse & Wine Bar will be offering a special brunch menu on Sunday in honor of Dad. Guests can choose an appetizer including lobster bisque, modern caesar or fresh seasonal fruits. For entrée, Dad can choose from a list of meals including the prime rib with a trio of sauces, Fleming's signature eggs benedict, prime rib hash or baked brioche French toast layered in vanilla and orange custard. Guests can also choose a side to accompany their entrée, including the summer squash gratin or smashed O'Brien potatoes. Finally, Dad can choose a dessert that includes the white chocolate bread pudding, cheesecake or walnut turtle pie. Cost is $39.95 per guest and $18.95 for children under 12. In addition, each dad will receive a $25 dining card valid for a future visit.
e2 Emeril's Eatery will also be featuring a special Father's Day menu. Chef de cuisine Brian Mottola has created a special brunch menu for the day featuring everything from authentic Southern fare (biscuits and gravy with housemade sausage or a crispy soft shell crab with grits and eggs) to sweet and inspired (French toast stuffed with peanut butter) to hearty and satisfying (a 20-ounce Porterhouse!). Brunch will be served from 10 a.m. to 2 p.m. Reservations are recommended.
You can see the full list of all the Charlotte restaurants offering father's Day specials here.
If you aren't up for the whole going out for brunch thing, why don't you MAKE Dad a stellar meal at home? This recipe for steak and eggs is a sure success. Serve with a paper crown for Dad to wear. That way, he can feel like king for a day, as he should.