Father's Day Gifts for Every Kind of Dad
From the boater to the cocktail connoisseur, we've got some great gifts for the father figure in your life.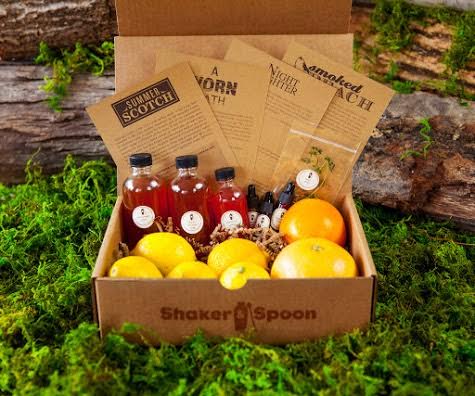 There are a lot of different kinds of dads out there. Father figures can range from the outdoorsy type to the techy kind to the culinary mastermind. With that being said, there is no one-gift-fits-all when it comes to Father's Day presents.
We rounded up some of the most unique and useful gifts any dad would be thankful for. Show dad he means more to you than giving him a tie (something he has a ton of). Give him something he'll actually use—whether simply to remember how much he's appreciated or to help him make that cocktail he's been raving about since his last vacation.

For the energy- or budget-conscious dad
Mistbox
If it's a recurring theme in your father's home that he's extremely conscious of the AC (and how it "mysteriously" creeps to colder temps when he's not looking), he will love gaining control of the climate when he installs Mistbox. Reducing the carbon footprint and saving money, Mistbox is a home device that measures temperature, sound, and the electromagnetic field to keep home temperatures steady without your AC working overtime. Dad can set a temperature threshold, and once it hits that temp, Mistbox automatically emits a mist to cool down the outside air as it enters the AC unit—for the science lovers out there, the process is called evaporative cooling. Dad uses the app on his phone to set preferences, monitor the status, and see his savings in real-time. Retail is $399, but with a 30% Federal Green Tax Credit, the cost goes down to $279. Available at Mistbox.com.
For the dad who's always on the water
Catalyst Case
There are plenty of moments that call for waterproof phone cases, like summer days on Lake Norman. If dad is a boater, he will be very happy to receive a waterproof phone case or case for his Apple watch. With the case on his devices, he can take pictures underwater or simply protect them from the elements if he's in the splash zone. Buy Catalyst Case at either the local Target, West Marine, or Best Buy. Apple Watch Case is $59.99, and cases for iPhone 5 up to 6S Plus range from $64.99 to $74.99.

For the dad who likes to treat himself
Shaker & Spoon Cocktail Club
Just add liquor: The gift of good libations will make dad smile when he receives his first of many cocktail recipes to make a mixologist-quality alcoholic beverage. Twelve perfect mixed drinks are delivered to his door each month with the Shaker & Spoon subscription service—a box includes three different recipes and ingredients (syrups, bitters, garnishes, citruses) to make four drinks per recipe and require just one bottle of alcohol of dad's choosing. Buy him three months for $135 or six months for $250. There are also month-by-month and 12-month payment options; shakerandspoon.com.
For the dad trying to stay in shape
Audible Rush Jam-Pac
It's no secret that staying in shape gets harder with age, and some of us just need a little more motivation than others to get the gears turning. For those dads who make an effort to get out on the bicycle a couple times a week, let them know you're proud of them with musical motivation. The Audible Rush Jam-Pac speaker has digital 12-volt amplifier technology that works with most popular music players, iPhones, and Androids. It fits recreational or performance-type handlebars, and the bag also has storage space for keys, wallets, snacks, etc. The Jam-Pac Premium Plus charges your phone while in use, and can be purchased for a special price of $179.95 at audiblerush.com. Use code XTRM0DA8B0CE for a $25 gift certificate with your purchase.

For the dad who gets the party started
Rollors Lawn Game
Whether on a vacation in the Outer Banks or simply at a backyard BBQ, if your dad is always the one who suggests to setup the corn-hole boards, he will love having a new "toy" to whip out. Rollors is a twist on bocce ball and horseshoes where players roll discs to get them closest to the goal. Perfect for a little family competition, Rollors requires skill but leaves little bit up to chance—and kids ages 4 and up can play. Buy it at the Dicks in SouthPark; $49.95.
For the dad who drinks local
Muddy River Distillery Rum
Charlotte's got some impressive alcohol options—what with microbreweries galore—but when it comes to rum, what does dad have to drink? Give him a bottle of Queen Charlotte's Reserve aged rum made in Belmont, NC, for a dose of local. It's barrel-aged for a year in virgin white oak barrels for a smooth, oaky finish. Tack on a distillery tour for either $5 or $8.50, and dad's got a great gift he'll be buzzing about all year long. Buy the rum at the distillery or an ABC store; $29.99.

For the dad who is always there with good advice
Orvis Personalized Brass Compass
Sometimes the best gifts are the ones that tug at the heart strings (it's the thought that counts, remember?). If your old man is someone who's always been there to help you find your way even when you thought there was no light at the end of the tunnel, let him know how much you appreciate his guidance with a metaphorical and stylish gift. This handcrafted brass compass is not only a sharp addition to dad's office, but you can have the lid engraved with up to twenty letters for a special Thank You. Buy it for $89+ at Orvis.