'Ferguson Effect' Rears Its Head in Charlotte
But is it a real thing? If so, what is it?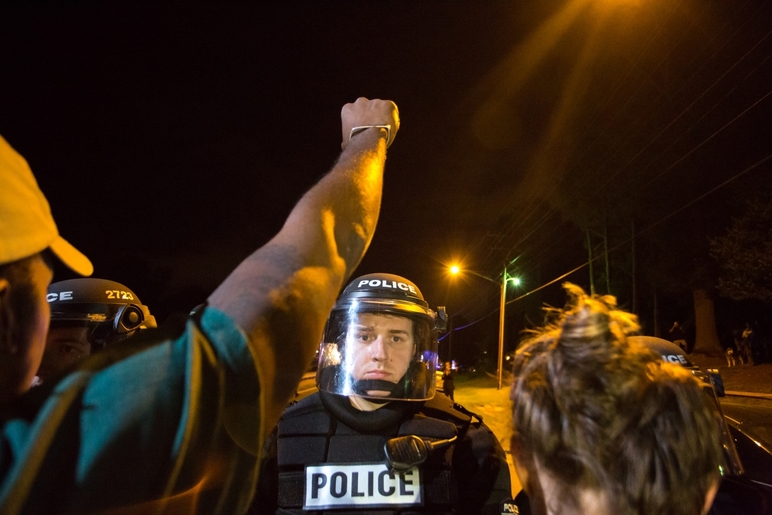 On Monday night, as he asked the Charlotte City Council for both more money and emotional support for the Charlotte-Mecklenburg Police Department, an officer named Travis Cook said the demonstrations that followed the police shooting death of Keith Scott in September caused a "Ferguson effect" that's contributing to Charlotte's rising crime rate. "Not only do officers feel they have no support from the community," said Cook, a member of the city's Fraternal Order of Police lodge, "they feel they have no support from the City Council."
It's budget season, and of course city departments will angle for more funding. But Cook's reference to the "Ferguson effect" introduced a loaded concept into the discussion. It's a term that's inflamed discussions about crime and policing since Darren Wilson shot and killed Michael Brown, an unarmed black man, in Ferguson, Missouri, in August 2014. The chief of the St. Louis Metropolitan Police Department, Sam Dotson, coined the term later that year to describe what he said was front-line police reluctance to aggressively enforce the law after civil disturbances that follow police shooting incidents.
But the precise meaning has never been clear. Does the Ferguson effect mean de-policing as department policy, or a general, unofficial chilling effect on patrol officers? Or does it mean an emboldening of criminals who sense and take advantage of law enforcement agencies knocked back on their heels? Dotson initially used the term as shorthand to describe both the short-term divergence of St. Louis officers to help manage the chaos in Ferguson and the perceived empowerment of criminals. Interestingly, he didn't mention de-policing either as policy or effect. Pundits such as Heather Mac Donald, author of The War On Cops, have made a case that crime is on the rise because officials and activists are criticizing law enforcement. This is, as you can imagine, a popular view among law enforcement and conservatives.
Yet there's plenty of reason to be skeptical about what "the Ferguson effect" is, and whether it's an actual phenomenon or just a convenient rhetorical tool in discussions of, among other things, police department budgets. An assortment of officials and researchers have warned that the theory is backed up by anecdotal, not statistical evidence, and a host of other factors might be at play: the growth of the opioid drug trade and the easy availability of guns, for example. A recent Pew Research Center survey revealed that more than three-quarters of nearly 8,000 officers nationwide said they're more reluctant to use force when necessary because of widely publicized police shootings of black people. That's not exactly an unbiased sample, though, and you're also free to wonder whether a reluctance to use deadly force might not be a good thing.
One of the nation's chief researchers into the phenomenon is Dr. Richard Rosenfeld of the University of Missouri-St. Louis. I spoke to him a few weeks ago about the rise in Charlotte's homicide rate this year. In a widely shared report he produced last year for the National Institute of Justice, Rosenfeld concluded that a version of the Ferguson effect does seem to have contributed to violent crime rises in several U.S. cities. But it's not a "war on cops." It's a widespread lack of trust in them, especially in poor minority neighborhoods:
Intentionally or not, the St. Louis police chief invoked an important strain of sociological and criminological thinking in his explanation of the Ferguson effect: the idea that violence escalates when individuals and communities are alienated from the legitimate means of social control. When persons do not trust the police to act on their behalf and to treat them fairly and with respect, they lose confidence in the formal apparatus of social control and become more likely to take matters into their own hands. Interpersonal disputes are settled informally and often violently.
During a media briefing last month, CMPD Chief Kerr Putney cited a sudden spike in disputes that ended in violent death, and admitted he didn't have a good explanation for it. Keith Scott was shot and killed in late September. District Attorney Andrew Murray chose in late November not to charge Officer Brentley Vinson, the black CMPD officer who fired the shots. CMPD determined in late April that Vinson had followed police procedure and would not be disciplined.
Even if you accept that the Scott shooting was justified, you can empathize with a community whose members are convinced, not without cause, that the official system is stacked against them. If that abandonment of even minimal trust is the true Ferguson effect, it's a problem that no increase in police funding is likely to solve.