Fern, Flavors from the Garden Brings Garden Variety to Charlotte
Plaza Midwood's newest restaurant is all about the vegetables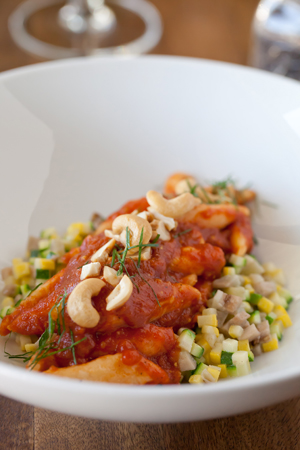 With its plethora of banker-friendly steakhouses and meat-and-three diners, Charlotte has never been known for vegetarian-friendly fare. But as the trend of eating local has taken off, veggies are taking prominent positions on area menus. And at Plaza Midwood's new Fern, Flavors from the Garden, vegetables rule the inventive menu.
The small café, which features earthy décor including a wall of live ferns and a rustic mason jar chandelier, is on a busy stretch of Central Avenue next to railroad tracks and a pawn shop. But its busy location belies the calming nature of the inviting restaurant, where a chakra-inspired juice menu is designed for healing and even iced tea comes in an orange ginger flavor meant to soothe.
Fern's all-vegetarian menu ranges from the expected, such as a house-made veggie burger ($10) or a quinoa salad ($4), to the innovative, including vegan doughnut holes ($5) made with ale and resting on a chocolate stout glaze. A drink menu features organic wines, gluten-free beers, and locally produced options. Many of the menu's best items, though, can be found among its small plates.
Squash blossom hushpuppies ($9) feature three tender squash blossoms stuffed with a vegan mozzarella cheese and then deep fried. These hot, crispy finger foods are served alongside a caramelized onion sauce for dipping and are ideal for sharing. For an Indian-meets-Southwestern twist on appetizers, try the Indian Tacos ($10), which come two to a plate. A hearty pinto-bean-and-squash chili is scooped on top of traditional fry bread and topped with fresh tomatoes, lettuce, onions, and local cheddar.
For the less adventurous, Fern offers dishes like a simple roasted vegetable panini featuring sun-dried tomato pesto and fresh mozzarella or bruschetta with thick, crunchy slices of charred garlic bread. But the fun is in Fern's creativity with flavors. Chef Alyssa Gorelick's unexpected combinations like tomato, curry, and cashews on a sweet potato gnocchi ($14) work surprisingly well. It's this boldness that has already made Fern a favorite among local food lovers and, if given the chance, could lure in even the most ardent of the city's meat eaters for a bite.
Fern, Flavors from the Garden
1323 Central Ave.
704-377-1825
fernflavors.com