Festival Guide: Reverb Fest: Sweet '16 at Snug Harbor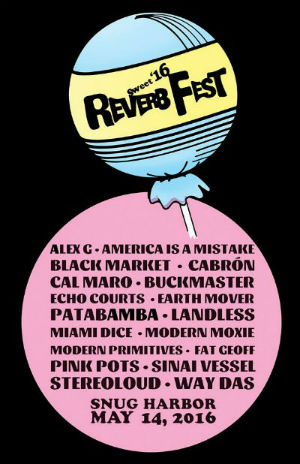 REVERB FEST returns with a Sweet '16 rendition on Saturday (May 14) at Snug Harbor. The festival gathers indie acts from the Southeast, with genres ranging from neo-soul and alt-hip-hop to punk and riff-heavy rock. In this guide, learn about what makes this year's event different than predecessors.
1. The Festival.
First conceived by Charlotte musician Phil Pucci, this biannual event is one of the most consistent local music showcases running. Past events took place at NoDa's Neighborhood Theatre, but this time around, Reverb Fest inhabits Snug Harbor in Plaza Midwood, which is no stranger to Charlotte festivals. With 18 musical acts and 7 vendors, admission at $12 makes the event one of the more affordable area music festivals, as well. (Tickets here.)
2. The Bands.
Philly's Alex G headlines the show. The rock multi-instrumentalist released his latest, Beach Music, last October, after garnering praise for his previous album from The Washington Post, Noisey, and Vogue. Acts like Black Market, America is a Mistake, Sinai Vessel, and Cabron lean punk, while Charlotte's Modern Primitives offer self-described "real rock and roll." For some neo-soul tunes, check out Cal Maro, who debuted a music video with Charlottemagazine.com earlier this year.
Also, Fat Geoff and Stereoloud bring alt-hip-hop, while Miami Dice's throwback, beat-heavy, synth-laden sound is a Charlotte favorite. Other acts include psychedelia-tinged groups Pink Pots and Echo Courts, pop-rock ensemble Way Das, house producer Buckmaster, the shoegazey Earth Mover, Latin fusion's Patabamba, alt-rock band Modern Moxie, and indie rock outfit Landless, which counts Pucci as a member.
3. The Vendors.
Reverb Fest packs several vendors in and around Snug Harbor. The Gâteau Baking Company, Pushwater Coffee, and Carlos Dogs sling treats. Also: You can purchase the art of Personified Critters, It's the Fuzz, and illustrator/caricaturist Sarah Pollock. The Oddboy Collective's threads are also on hand.