Fighting Back Against Ugly Buildings in Charlotte
As the city prepares to rewrite its zoning code, architects push for better design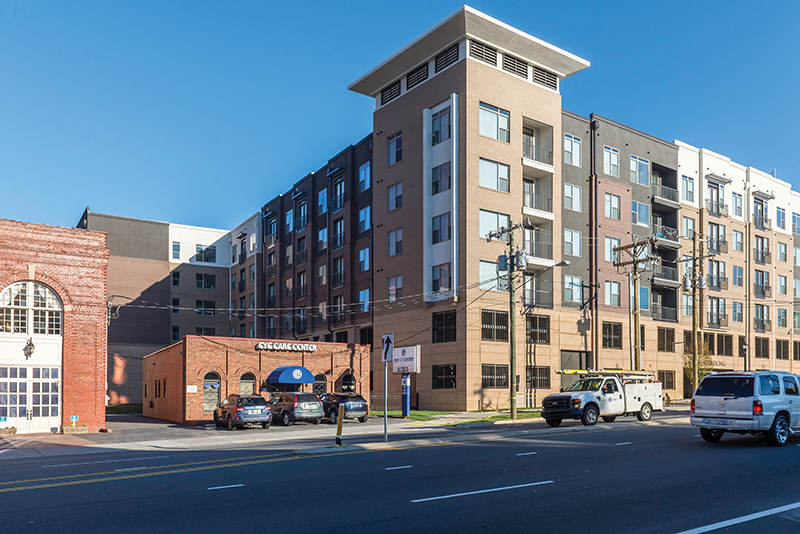 "LET'S JUST ADMIT Charlotte's architecture is not that good," architect and planner Tom Low says. He's standing in front of a roomful of people at the Levine Museum of the New South one October evening, clicking through a slide show of examples that support his point.
Members of the audience sit around tables, jotting down notes or listening silently as he delivers this diagnosis. No one speaks up to disagree with him.
They know Charlotte has recently been taken over by self-replicating mutant apartment buildings that are frighteningly beige and banal, with only the occasional flourish of glued-on-looking corrugated metal. No one is stopping these mutants from spreading.
"Designers and developers think things are just fine, thank you very much. We have to push back," Low says.
He's the co-founder of Civic By Design, a decade-old group that holds monthly forums to promote public participation in "the creation of a more beautiful and functional region for all." At this forum, he shows more slides, pausing on a side-by-side comparison of two homes in Chantilly. One has a garage in the back, a slim driveway, and a covered porch in the front; the other has a two-car garage jutting out from the front of the home, a driveway the covers half the yard, and a front door that's tucked away. The latter style is brutally nicknamed a "snout house."
The audience groans. Low clicks to photos of new homes in the contentiously gentrified Cherry neighborhood. Once full of older trees, many lots in the area were clear-cut to make way for new, luxury homes. When building, it's easier and faster to clear-cut lots and then add young trees back in, rather than customizing each home's placement to accommodate existing trees. Tougher rules protecting trees are common in cities with better designbased planning, Low says. One of his images displays a newly planted, lean, bristled sapling. "That's not a tree; that's something you clean your toilet with," he says.
Building ordinances are not a captivating conversation topic. Yet cities that are beautiful, fun places to wander around in—Portland, Vancouver—have page after page of building ordinances that factor in design. Charlotte doesn't, which is what Low and others want to change.
Design, in this case, does not mean aesthetics. Low is more concerned with the walkability of an area, something that could be addressed with a "form-based" zoning code
This winter, the city plans to begin what could be a four-year process of rewriting its zoning code. The goal is to update regulations that were written in the 1980s and 90s, before mixed-use developments—those apartments stacked on top of stores and offices—became so popular. Already, city officials are talking about adding rules that address the appearance, size, and placement of buildings. But it may be too late.
More than 10,000 new residential units are going up around the city, and more projects are on the way. In four years' time, the cherished character—and few affordable housing units—of neighborhoods such as South End, NoDa, and Plaza Midwood may be increasingly suffocated.
***
AFTER THE FORUM, UNC Charlotte Professor Emeritus David Walters, the recently retired director of the university's Master of Urban Design program, stands outside on the steps of the museum, chatting with other attendees. (Design note: Broad, inviting steps and stoops facing a sidewalk are good community-oriented design. Such outdoor places invite people to linger.)
"Charlotte's known nationally—internationally—among developers for being a place where it's easy to build," Walters says. "Top developers don't want to come here. There's no appreciation for good work. How can they protect their investment? Their investment isn't protected; they can build something wonderful and someone else is allowed to put up a concrete wall across from it."
He and Low aren't here to complain, exactly. They want to educate the public about how good design can improve the situation, and challenge residents to demand more from local developers.
On the website PlanCharlotte.org, a media project of the UNC Charlotte Urban Institute, Walters has been writing a series of short essays outlining shortcomings in the city's zoning ordinances and suggesting improvements. Lately, he's been focusing on the outdoor amenities that developers often skip: sidewalks, stoops, and mini-plazas .
These are the outdoor stages of urban life. So is the sheltered brick patio of the Common Market in South End, which will be torn down to make room for a new financial office building if a rezoning request is approved.
If Charlotte wants more spaces like that patio, Walters writes, it needs a new type of zoning ordinance.
Low urges people to start writing and calling City Council members. These politicians ultimately approve new developments and new building codes.
And Low says there's no time to waste. "We need to move quickly, because there are a lot of horrible projects happening."