Fighting Boredom, One Article at a Time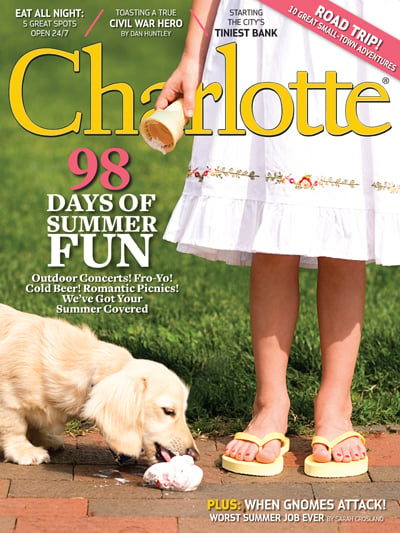 Because I know you're dying to read it, here's my editor's note column from the June issue:
If you're bored this summer, don't blame us.
This issue is packed with ideas of what to do from June to September. I started to count all the suggestions, but eventually realized the futility of my endeavor. Suffice to say that we actually may have gone overboard in suggesting ways to pass the time this summer.
The most obvious example of our largesse is in the feature titled "Summer Fun!" (Told you it was obvious.) Our writers offer ninety-eight ideas of what to do, one for every day between Memorial Day and Labor Day. But really, there are more than that, because some ideas are twofers, and we loaded down our website with even more. Most of those ideas involve staying right here in Charlotte. But if you have a hankering to hit the open road …
Then you really need to study the feature called "Hit the Road." (We really were trying to make it easy for you this month.) Associate editor Sarah Crosland directed four writers in uncovering the coolest small towns within two hours of Charlotte. A few you may already know well. But how many of you have spent time in Saluda? Now you have no excuse.
And of course, our always-handy Agenda listings offer the best of the arts-and-culture scene this month, and our savvy Dish restaurant listings will allow you to be the one in your group to decide where to eat. (Control your dining destiny—that's my motto.)
But the summer doesn't have to be all about going and doing. This issue contains two interesting reads, each pertaining to a civil war. In "Long Road Home", writer Greg Lacour tells the story of James Lubo Mijak, one of the forty or so Lost Boys of Sudan who settled in Charlotte. The boys were forced out of their homeland as a result of a long and brutal civil war. Now Lubo, as he's called, is going home. But, as Lacour shows us, the story is not as neat and happy as you might think.
In "Toasting a Hero", writer Dan Huntley tells about his meetings with Shelby Foote, the man who wrote the history of the Civil War. Huntley shares some amusing anecdotes—Foote was a character—but there's also this: "[Foote] brought the war dogs of America's most terrible conflict back to life. And he did so not for chivalry or some twisted nostalgia for the Lost Cause, but because he wanted us to never forget that most all wars "were absurd," he told me, particularly the one we call Civil. And no cause is just when brother kills brother."