Final Fall Touches
As the weather turns colder this weekend and daylight saving time ends, make sure your landscape is prepared for the seasons ahead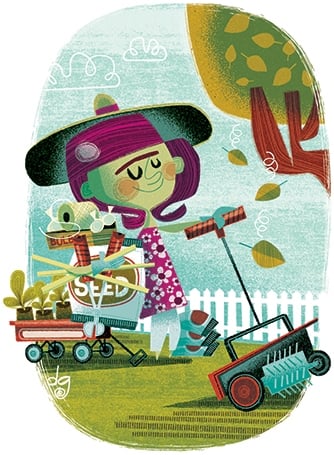 This weekend, the high temperatures will be in the 50s and the lows in the 30s. These cooler days and nights are reminders to make sure you have your landscape ready for the coming winter and following spring. We've put together a list of five tasks to help ready your yard.
The leaves are still putting on a show and hanging onto their branches, but once they fall, make the most of them. When we spoke to Mecklenburg Extension Master Gardener Margaret Genkins, she shared her strategy of chopping the leaves with her lawn mower. Then she spreads the leaf mulch on her ornamental and edible beds to retain moisture and warmth in the soil. Read more of Margaret's tips on fall edibles, here.
If you haven't yet harvested the last of your summer herbs and produce, gather them in before they're damaged by the first frost. Holly Jeffries of the Charlotte Herb Guild suggests drying herbs for future use by hanging them or placing them on paper plates on top of your refrigerator. Once the herbs are dry, they'll add flavor to your dishes all winter long.
Get your bulbs in the ground now for a colorful show in the spring. Many people don't think of daffodils or crocuses until spring arrives, but fall is the time to plant them and allow them to get established.
Spring pruning is best for many plants because it often stimulates new growth, which is susceptible to frost. A few exceptions are hydrangea varieties, which can be pruned after the fall blooming, and boxwoods. Researching when to prune certain plants is recommended (read more here). Check out this page for pruning tips from the Mecklenburg Extension Master Gardeners.
Instead of throwing out clippings, discarded summer plants and vines, and leaves, use them as materials to create a brush pile. Brush piles attract winter birds because most other plant cover is lost during the winter. Chris Moorman, a professor of Forestry and Environmental Resources at N.C. State University, recommends a loosely stacked pile about four feet tall. Read more about creating a bird habitat here.