Fine Rugs at Couture Knots
The showroom on Cleveland Avenue focuses on service and personalization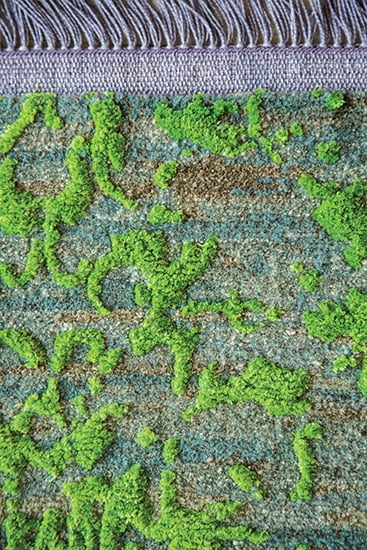 In the latest issue of Charlotte Home + Garden, we visit Ali Nikrooz at Couture Knots. His rug showroom opened a few months ago on Cleveland Avenue between Dilworth and South End.
Nikrooz was looking at a retail shop across South Boulevard, but it wasn't ready yet. So he moved into the former hair salon with 700 square feet of showroom space. It was supposed to be temporary, but Nikrooz likes it. It has high ceilings, an industrial feel. He outfitted it with a chandelier above a table and chairs where he sits with customers to talk through their options.
The options are plentiful. But unlike larger rug showrooms that have thousands of rugs hanging in a building that seems a mile long and customers search and search until they choose one more out of exhaustion than excitement, Nikrooz's space is tiny and tidy. Squares and swatches hang on the wall. A black box conceals 1,200 color swatches. It's comfortable, approachable.
Nikrooz took a roundabout route to rugs. The biology major was working in chemical sales in Charlotte when he went on a trip to Europe to visit a family member who sold rugs. When Nikrooz saw the rugs, he fell for them. He wanted to bring those intricate, handmade designs to the United States. He worked trade shows and visited showrooms across the country to learn the industry. Then he was offered the chance to introduce a Cadrys line of rugs inspired by the work of Australian wallpaper designer Florence Broadhurst to the United States. Nikrooz soon realized that the rugs he was selling were mostly inaccessible to people in the Charlotte region. Charlotte designers often travel to Atlanta and New York to shop for high-end rugs. Having grown up in Charlotte, Nikrooz wanted to bring his products to the Queen City.
Most of the rugs at Couture Knots are made in Nepal. The wool comes from sheep that graze in the Himalayan highlands, so they produce extra lanolin due to the cold climate. Everything is done by hand, the shearing, coloring, carding. Many of the rugs are woven in rooms where a caller sings the codes for the knots and the weavers translate those songs into intricate patterns.
"If you have a party and your rug has a story, it's such a good conversation piece," Nikrooz says.
The rug prices range from about $230 per square foot at the high end to $60 per square foot on the lower end. And each rug is customizable. People can add extras, such as silk, or take a rug down to the basics to reduce cost.
Oftentimes the rug is one of the last decisions a designer makes for a space, but Nikrooz is trying to reverse that thinking. If someone starts with a customized rug, the entire room can evolve from its design and colors.
—-
Couture Knots is located at 1920 Cleveland Ave., Suite B1. To learn more, visit the website here.