FireWater Fare
One of the University area's favorite restaurants has a new name and a new menu, but the same relaxed ambience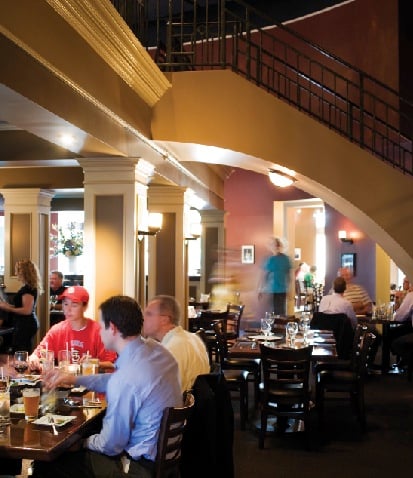 When Ralf Schnabel bought Lava Bistro two years ago, he knew the longtime University-area restaurant needed some updating. Last spring, after a brief closing, the popular spot reopened as FireWater. The simple interior hasn't undergone many large changes, which means this is still a modern, casual restaurant where the lakeside patio offers the best seat in the house. The menu, though, has been given a serious upgrade, with additions like delicately flavored Asian-inspired tuna dishes, succulent bacon-wrapped pork tenderloin, and a mildly sweet and crunchy pear salad. There's likely nothing here you haven't seen on a menu before, but the dishes' bold flavors and impressive presentation make this a neighborhood destination.
Before moving to Charlotte, Schnabel worked as an operator for his family's tuna business in Venezuela, and the sushi-grade tuna in the restaurant's dishes is still shipped daily from his family's boats. The tuna tartare appetizer ($10), featuring a trio of sesame soy mandarin orange tuna, wasabi aioli tuna, and lemon garlic tuna, is perfect for highlighting the bright flavor and tender texture of the fresh fish. The menu includes several other seafood options, like the pan-seared red snapper with a buttery paprika sauce ($23) and the hearty stuffed rainbow trout filled with andouille sausage cornbread and covered in a tasso ham cream sauce ($18).
You'll also find casual options like the pork, meatloaf, and chicken sliders ($9). You choose three for the dish, and while they're each well-prepared and tasty, the meatloaf reigns as it's covered in creamy pimento cheese and topped with a miniature crispy onion ring. You'll wish it were the size of a burger.
While the bar offers a nice variety of craft brews on tap for pairing with dishes like the sliders, there's also an extensive wine list and a sophisticated cocktail selection featuring drinks like the cucumber basil or melon mint martini. All of the drinks pair well with the laid-back patio, where live lakeside music often creates a fun atmosphere, perfect for enjoying late into the night.
FireWater
8708 J.W. Clay Blvd.
704-549-0050
D, FSB, P
Closed Sunday