Five can't-miss events during Charlotte Craft Beer Week 2016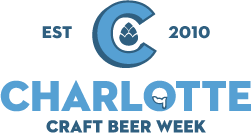 This Friday marks the beginning of the seventh annual Charlotte Craft Beer Week. It actually spans the course of 10 days now (not surprising, with the rise of breweries and craft bars in Charlotte over the last few years).
From tap takeovers to festivals, there are plenty of events to check out. But if you have limited time and/or money (or both), here are five to definitely circle:
Craft Freedom Launch Party
Craft Freedom, if you haven't heard, is a movement started by Olde Mecklenburg and NoDa Brewing to further educate people and change current beer laws regarding self-distribution. This party is an opportunity to hear more about Craft Freedom while at the same time enjoying some of your favorite local beers. Along with OMB and NoDa, Birdsong, Legion and Triple C will be pouring at the party. There will also be giveaways of merchandise. March 11, 6 p.m. to 10 p.m., Olde Mecklenburg Brewery
South End Craft Crawl
Preparations are needed for this event, which features 12 different stops around the South End neighborhood. And no worries on getting from place to place, as there will be two trolleys running throughout the day and evening on continuous 30-minute neighborhood loops. Each brewery or bar on the crawl will have beer specials and will also be tapping something special that day, and many will have live music as well. It's free to participate, but the organizers do ask you register in advance to get a proper head count. You can do that here, as well as see the full lineup and tapping schedule from each establishment. March 12, noon to 10 p.m., starts at The Beer Growler
Rumble in the Alley
This event never disappoints. Everyone gathers in the Common Market's alley for a blind taste test among 15 local and regional breweries (some of the beers brought in previous years have been outstanding). You'll think you know what you taste, but most of the time you'll be surprised as to what you guessed and what beer it actually is. At the end of the night, your vote will help decide the Rumble's champion. Tickets are $30. March 16, 6 p.m. to 8 p.m., Common Market Plaza Midwood
Cask Festival
I wrote about this a couple weeks ago, and tickets are still on sale. Eight breweries (Birdsong, Founders, Highland, Mother Earth, NoDa, Olde Hickory, Stone and Wicked Weed) are bringing rare beers in casks. This is another event where the past casks were great, featuring unique ingredients used to create solid beers. Tickets are $25 and pre-sale only. March 19, 1 p.m. to 5 p.m., Duckworth's Park Road
South End Spring Fling
After two years of the All Ale to the Queen Festival, CCBW is toning it down (a great move, in this writer's opinion) and ending the week with a more local flavor. Tickets are $10, with proceeds benefitting Project Halo. Cost of admission gets you two craft beers and a raffle ticket. There will also be live music and food trucks on site. March 20, 1 p.m. to 6 p.m., Bulldog Beer and Wine South End
You can get a full list of events, including the dates, times and places by going to Charlotte Craft Beer Week's main page.