Five Courses of Flowers
Next week's dinner at The Mint Museum draws inspiration from the "Allure of Flowers" exhibit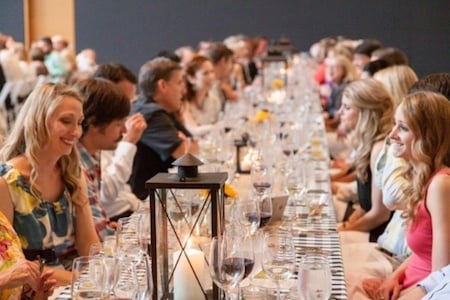 Next Monday night, June 16, two creative groups join together for a five-course dinner. In honor of The Mint Museum Uptown's current exhibit "Allure of Flowers: Botanical Motifs in Craft, Design, & Fashion," The Mother Earth Group has created a community dinner called Allure of Flowers After Hours with a floral-inspired menu.
"We're always doing something creative," says Jill Marcus, president and event stylist at The Mother Earth Group, which includes Something Classic cafes and catering; Fern, Flavors from the Garden; and Halcyon, Flavors from the Earth. "We sit around and talk about food every day."
Last year, the two entities teamed up for a local-farm-focused dinner. All 106 tickets sold out, and Marcus expects the same support this year. Marcus developed the menu with help from chefs at her various operations.
The night begins at 6 p.m. with cocktails, hors d'oeuvres, and a tour of the exhibit. Appetizers, including dandelion fritters and tempura squash blossoms, set the tone for the sit-down dinner. Mixologist Maggie Ruppert, of The Mother Earth Group, will prepare gin cocktails with North Carolina raw honey and lavender syrup. At 7 p.m. guests will take their seats on The Mint's terrace overlooking the Levine Center for the Arts.
"I think the idea of people sitting together at long tables … there's camaraderie there," Marcus says. "It's a very good experience."
Each course incorporates flowers in some way. Nasturtiums, lavender, artichokes, and rose petals dot the menu. Perhaps one of the biggest surprises is that Drew Trepanier of Fern, a vegetarian and vegan restaurant, will cook meat that night. Other chefs include James Stouffer of Halcyon, and David Clarke and Megan Goldman of Something Classic. Wine pairings accompany each course, and Marcus also mentions a special beer for the evening. Guests are encouraged to wear floral apparel.
Tickets are $120 per person, or $105 for Mint Museum members. Proceeds benefit The Mint Museum Annual Fund. For more details, including a full menu and registration instructions, click here.