Five Favorite Outdoor Spaces
Savor these fall days by spending some time on the porch or by the fire pit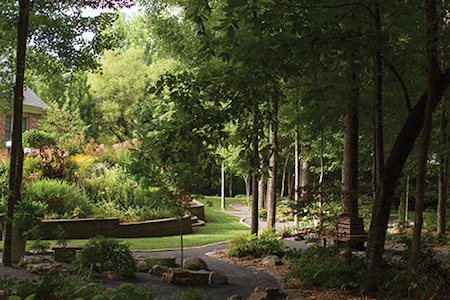 Fall brings warm days and chilly nights, making it an ideal season to enjoy the outdoors. Whether you want to read a book in a serene setting or throw a dinner party in a backyard kitchen, here are five of our favorite Charlotte Home + Garden spaces that inspire all sorts of outdoor activities. (Click the photos to read the full stories.)
Garden Transformation. In our latest issue of Charlotte Home + Garden, we visit the south Charlotte backyard of Gail and Laurence Burke. Part of the property is in a floodplain, so the Burkes had to get creative and created a dry creek bed to solve drainage issues. The property is now a functional space that attracts all sorts of birds and butterflies.
Photo by Logan Cyrus.
Backyard Zen. Tamea Price worked with TG&R Landscape Group and Kevin Crook of Bella Design Group to create an exquisite backyard retreat, inspired by the philosophy of form feng shui. A hot tub, outdoor kitchen, cushioned seating area, and fireplace beg for outdoor entertaining.
Photo by Joel Lassiter.
Stately Restoration. The postwar Colonial home of Hugh Wrigley and Diana Crawford underwent an 18-month project to restore its 4,100 square feet of space. The project extended to the backyard, with the addition of a swimming pool, which blends in and feels like an original fixture. New garden beds and hedges create the idea of outdoor rooms.
Photo by Chris Edwards.
All-Season Garden. This pool in Liz and Jimmy Foster's backyard feels like an escape miles away from anyone, even though it's located in Dilworth. The gate behind the pool leads to two formal English gardens.
Photo by Logan Cyrus.
Outdoor Oasis. John Biggers of Biggers Lawn and Landscape built this stone patio and covered fireplace in Larry and Lois Osier's Myers Park backyard. "Having the outdoor seating area is like having another living room," Larry says. "We spend all of our time out there."
Photo by Logan Cyrus.