Five-Word Descriptions: The Bands of God Save the Queen City (Plus: Weekend Arts Events)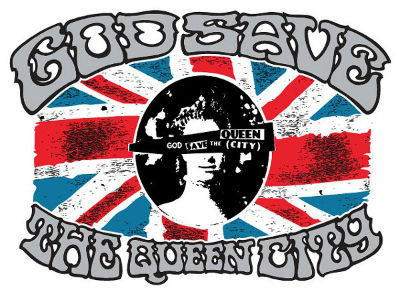 INK FLOYD'S God Save the Queen City, one of Charlotte's premier music festivals, is back. And there are several bands packing the event's multiple stages this year. Unfamiliar with some of them? Well, don't worry. These five-word descriptions will help you navigate the genres and sounds represented without taking up your afternoon. We start with Thursday's show at The Evening Muse. To purchase tickets for any of the shows in this festival, head here.
THE EVENING MUSE

The Ravenna Colt: Lush Americana tunes. Some twang.

Water Liars: Soulful indie rock. Southern undertones.

Amigo: Energetic alt-country. Hint of punk.

Justin Fedor: Member: New Familiars, Ancient Cities.
THE CHOP SHOP

Diarrhea Planet: Indie via Nashville. Memorable name.

Kansas Bible Company: Eleven members. Huge rock sound.

Water Liars: I already described this band.

Junior Astronomers: Post-punk darlings of Queen City.

Pujol: Their description: "Southern Gothic rock."

Ancient Cities: Rock with synths. Psychedelic tinge.

Bubonik Funk: You have to groove.
NC MUSIC FACTORY

Temperance League: Rock. Little Petty; little Springsteen.

Pullman Strike: Expert folk rock. Steel guitar.

Black Market: High-energy garage rock. Bobbing heads.

The Sammies: Not short for "sandwiches." Alt-rock.

Hungry Girl: Hear a new song here.

Giant Squid Squad: Funky. Jammy. Soulful. Bass slaps.
THE FILLMORE

Dean Ween Group: Ween alum still brilliant. Fisherman.

Futurebirds: Country rock with garagey edge.

Benji Hughes: Charlotte legend. Singer-songwriter of singer-songwriters.

Alternative Champs: Not joke band, but funny.
---
As for other weekend offerings, check those out below:
FRIDAY
SOCIAL DISTORTION
Since 1978, Social Distortion's kinetic punk has filled clubs, leading the SoCo scene. Thirty-seven years after that first power chord, they haven't slowed down. They're sure to pack the Fillmore, one of Charlotte's top rock clubs.
NICKELBACK
The No Fixed Address tour shares its title with the band's 2014 record. The name itself comes from the nature of the record's production, bouncing across the nation to different studios. Enjoy them in the sun at PNC Music Pavilion.
ROBERT MOTHERWELL: A CENTENARY EXHIBITION
They came from all over—FedExed from Texas, transported in trucks from New York, or borrowed from other galleries. Each component is a piece of a puzzle, one that when displayed on the walls of the Jerald Melberg Gallery this Saturday, will represent the life of Robert Motherwell. The abstract expressionist is the subject of the Cotswold locale's latest exhibition: Robert Motherwell: A Centenary Exhibition. Read more about this exhibit, here.
THE LIGHT FACTORY
This venue's vision statement says, "The Light Factory is committed to photography and film as a means of enriching lives and transforming communities." Classes range from DSLR usage to enhancing Photoshop skills, with varying levels of difficulty.
SATURDAY
DARIUS RUCKER: SOUTHERN STYLE TOUR
Southern Style quickly hit No. 1 on the Top Country Albums chart. With this one, Rucker found a hit in "Homegrown Honey."
LAST IN THE SERIES: BLAKENEY CONCERT SERIES
(through Aug. 29) Taking place between Encore and Brixx, hit the fountain stage for bands each Friday and Saturday. Heroes At Last, Loafers, Natty Boh, and DJ Chuck are among the acts who add some music to the Blakeney experience each week.
CIEL GALLERY
Ciel Gallery is a combined teaching space and mosaic gallery in the South End district. Paintings, mosaics, photography, jewelry, pottery, sculpture, and more are featured each month. The Body Beautiful is the October show. Tied in with Breast Cancer Awareness Month, the show features art that explores relationships with the human body.
SUNDAY
MOTOWN THE MUSICAL
Visit the careers of the Jacksons, Diana Ross, and others in this musical production. At its center is founder Berry Gordy, the architect of Motown.
HARVEY B. GANTT CENTER FOR AFRICAN-AMERICAN ARTS + CULTURE
The center, named for Charlotte's first African-American mayor, puts a lens on the cultural contributions of African-American artists and thinkers. The museum's permanent exhibition, the John & Vivian Hewitt Collection of African-American Art, showcases the work of 20 artists, such as Charlotte native Romare Bearden.