Fleeting Figs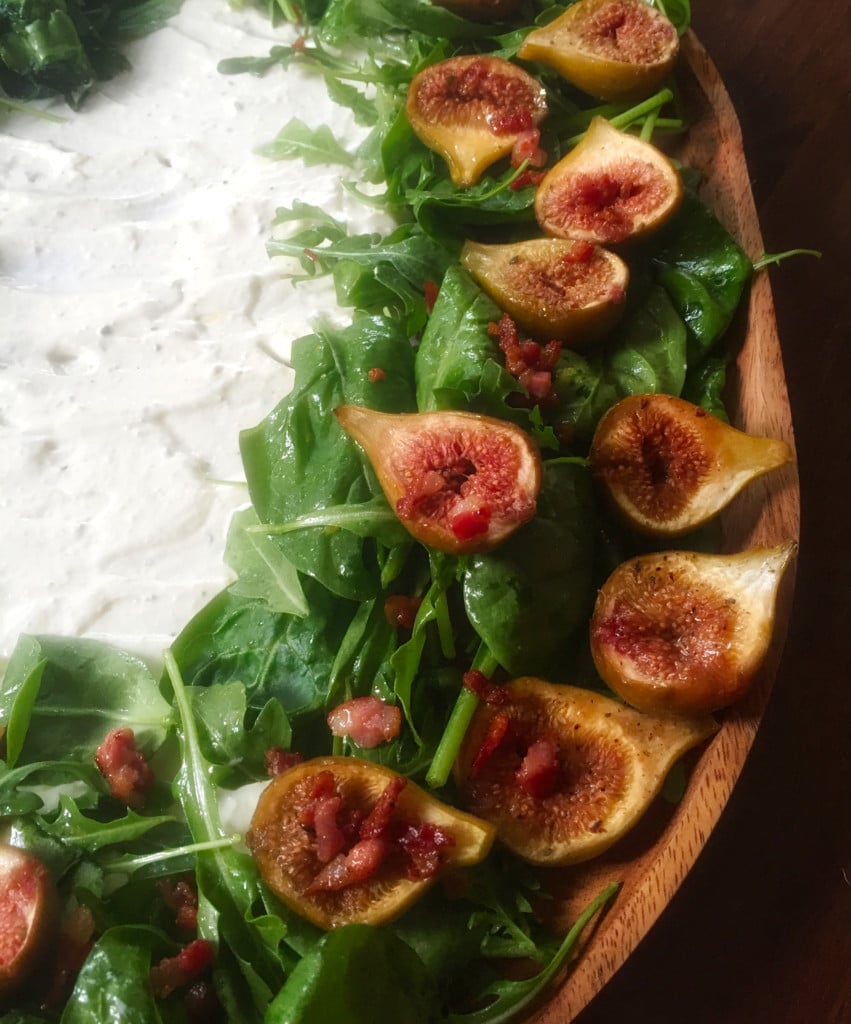 Fig season in the South is bountiful, but short. We can get almost any fruit or vegetable that we want year-round these days, but fresh figs are still hard to come by. Best to eat as many of them as you can, when you can.
It's possible you have a friend with a backyard fig tree that can help you do just that, since he or she is probably drowning in them. If not, try a local farmer's market. I've seen sellers who only come to the market during fig season, which typically lasts until the beginning of September.
While associated heavily with Mediterranean cultures, figs are actually thought to be a native of Western Asia. They made their way to the New World in Mexico first, later arriving in the South in the 1600s. Humans have been cultivating this choice fruit for over 10,000 years.
The prophet Mohammed called figs "a fruit from Paradise." I'm inclined to agree. Especially when they are roasted with a little local rum and sugar, as they are in this recipe below.
In this recipe, I combined figs with some crispy pancetta, baby greens dressed in a simple vinaigrette, and a whipped ricotta flavored with fresh thyme and lemon. But you can stop with just roasting the figs and then spoon them over ice cream or a melted brie. Or just eat them.
I'm not exactly sure which variety these copper-colored figs were; they came from the backyard tree of a friend of a friend who was drowning in figs. This recipe should work for most varieties, however. I liked the extra spice that came from Muddy River's Spiced Carolina Rum, but you can try other liquors, like whiskey or brandy. The instructions read long, but I promise, it doesn't take long to make this salad.
Roasted Fig Salad With Whipped Lemon-Thyme Ricotta
For the Figs
18 – 20 figs
3 tablespoons butter
1 tablespoon brown sugar
1/2 teaspoon ground cinnamon (optional)
Pinch of sea salt
Generous splash of Muddy River Spiced Carolina Rum
Several sprigs of fresh thyme
Black pepper
For the Whipped Ricotta
1 cup whole milk ricotta
1 teaspoon lemon juice
2 teaspoons olive oil
Zest from one lemon
Leaves from two sprigs fresh thyme
Coarsely ground black pepper
Sea salt
For the Dressing
1 1/2 tablespoons fresh lemon juice
3 tablespoons extra virgin olive oil
1 tablespoon finely minced shallot
1 teaspoon brown sugar
1/4 tsp ground mustard
Black pepper and sea salt
5 ounces (1 package) baby arugula or spinach
2 ounces pancetta, diced
Honey, for drizzling
Toasted sliced almonds (optional), for garnish
Gently wash the figs and set on a paper towel to dry. Heat the oven to 400°. Slice figs vertically and place them in a large baking dish, cut side up. Tuck thyme sprigs among the figs.
Melt butter in a small saucepan over medium heat. Add brown sugar, cinnamon, and a pinch of salt. Stir until the sugar has melted, then add the rum. Remove from heat and spoon the sauce over the figs. Top the figs with freshly ground pepper.
Bake figs for 15–20 minutes. Don't let them get too soft. Remove from oven and let cool to room temperature.
Meanwhile, place all of the ingredients for the ricotta in a food processor. (You can also use a hand whisk, it will just be more work.) Process the mixture until it is smooth. Set aside.
Cook the diced pancetta in a sauté pan until just crispy. Remove from heat and set aside.
Whisk together all of the ingredients for the dressing in a mixing bowl. Add the arugula or spinach, and gently toss.
Using a spatula, spread the ricotta on a large serving plate. Top with the greens and pancetta, then arrange figs on top. Drizzle with honey and top with the almonds.