Food as Art
The Light Factory brings to town a documentary about the world's best restaurant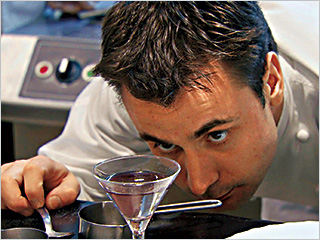 I may never make it to Spain's El Bulli, considered by many authorities to be the best restaurant in the world. But, you can bet I'll make it to the documentary about it.
El Bulli: Cooking in Progress examines the inner workings of a kitchen that takes food so seriously that the chef and his staff close for six months every year to investigate, experiment with ingredients, and revamp the menu.
The Hollywood Reporter said in its review, "Watching [Chef] Adrià stand in the middle of the organized chaos that is his kitchen with its 40-plus chefs, calling out dishes needed in the exact number, one is reminded of a music conductor summoning sounds from various sections of his orchestra. Then, once the rhythms of prep, plating and service fall into a routine, he sits at a quiet table, sampling each dish and making voluminous notes." The food isn't just elevated to art. This is an entire symphony.
The Light Factory's First Run Film series has brought the film to Charlotte for three showings. Thursday, Nov 10 – Saturday, Nov 12 at 7:30 p.m. Find out more.