Food Truck Pioneers
The owners of Sticks and Cones discuss how their ice cream truck helped launch one of Charlotte's most popular gatherings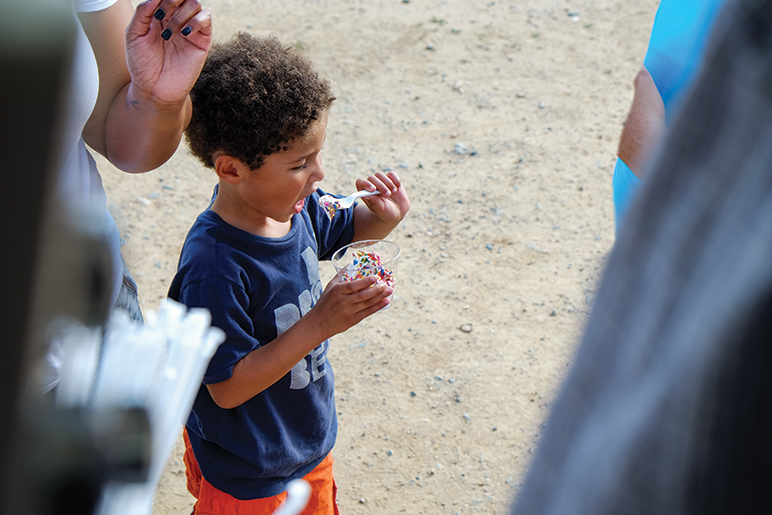 A proposed new development may soon take over the South End space where Food Truck Friday began. Here's how the event got started.
Dave Trauner: In the beginning of Food Truck Friday, there were more trucks than people.
Karen Trauner: The owner of the lot in South End had [seen photos of food trucks in Los Angeles] and wanted to bring it back to Charlotte.
There wasn't a whole lot of convincing to do with other food trucks because, well, there wasn't anyone to convince. At the time when it all began, in February of 2012, there were only six trucks [that came regularly to the rally]: us [Cones], the Tin Kitchen, Herban Legend, Napolitano's, Southern Cake Queen, and Goody Woody's. Our ice cream truck and Tin Kitchen are the only remaining trucks still at Food Truck Friday. The survivors.
So in the middle of February, we hauled our ice cream truck down to a weekly food truck rally, whatever that was, called Food Truck Friday, and we hoped people would buy something, anything. We didn't really have any expectations.
Dave: On one of the first Fridays, someone saw us, rolled down their window, and asked us what we were doing. We said it was a food truck rally, and we ourselves didn't even know what that was.
It was cold, and for the first few months … we would just stand outside our trucks and talk to each other. But we loved it. It was a way, for the first time, for the trucks to get together. It was kind of neat.
Karen: We had just bought our ice cream truck, Sticks, the February before. I mentioned to Dave buying an ice cream truck could be fun. [Dave was working at Merrill Lynch at the time while Karen stayed home to work on the couple's other business, an engraving company.] When we first started out, we were in the ice cream truck just driving through neighborhoods.
Dave: I'll never forget it when Karen looked at me and said, "Wouldn't you love to do this for the rest of your life?"
You know what? We are.
Now, with two ice cream trucks—Sticks, the typical ice cream truck, and Cones, the gourmet soft-serve truck [that goes to Food Truck Friday]—we've rarely been in a neighborhood for two years because we're so busy with private events and with managing Food Truck Friday.
Karen: When Herban Legend left Food Truck Friday in September [2014], we started managing the weekly rally. And it had really become just that: a rally. We now have close to five dozen food trucks that all want to be a part of the weekly Food Truck Friday, with only 14 spots available. It's a challenge to manage, but we try to be fair to everyone and give Charlotte a good mix of trucks.
Dave: Our favorite thing about Food Truck Friday is when you go, you don't see people on their cell phones. We only have six tables on the lot, and each table might hold four people on each side. If you have a couple sitting on each side, and if another couple comes up and asks if they can sit there, they say, "Sure." By the end of the night, they're friends, and they leave with each other's phone numbers.
You won't see people sitting down on a blanket texting each other; people are actually talking to each other. We even get people who don't speak English, and we get to see what vanilla sounds like in a different language.
People become friends at Food Truck Friday, and it's cool that in such a digital age, it's a place where people get together and talk.
---
FOOD TRUCK TRIVIA
3,000+: Number of people who showed up to a Food Truck Friday in April
14: Number of trucks allowed at each rally
6: Number of tables available for patrons to sit down at the rally
Strangest thing found in the Sticks and Cones ice cream trucks: a $52 bottle of balsamic vinegar for the "Boldly Balsamic" sundae.
One of the most popular items on Cones' menu: the Sweet and Salty Sundae, a softserve treat topped with caramel and pink Himalayan sea salt.
According to the Trauners, vanilla outsells chocolate 2-to-1.