Food Truck Rally, NBA Celebrity Party, Charity Events, and More Sept. 28-30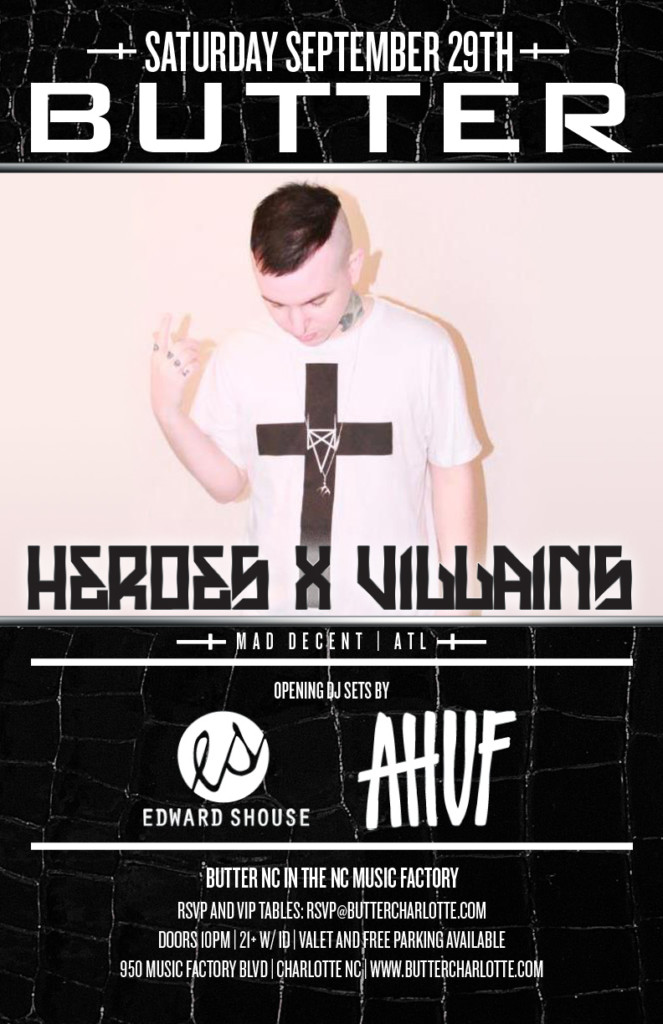 It's a good weekend to enjoy this great fall weather. Choose from this list of parties and social events.
Friday, September 28
Fall Food Truck Rally/Flashlight Maze
More than a dozen Charlotte-area food trucks will be selling their fried goodness, including Clover Joe's, Cupcake Delirium, Dan the Pig Man, Juan Taco, Maki Taco, Roots Farm Food, Sal's Roadside Eatery, Smoke and Go, Southern Cake Queen, Sunrise Grill & Sandwich Company, Turkey And…, and I Scream 4 Ice Cream. There will also be craft beer from Highland Brewing and wine from Shelton Vineyards, along with live music. Admission to the rally is free; admission rates apply ($10-$15) if you want to visit the Flashlight Maze. 6-9:30 p.m. Rural Hill, 4431 Neck Rd., Huntersville, ruralhill.net.
2 Ball Open
Compete in this beer pong tournament—or cheer on the competitors—as proceeds will benefit the Prostate Cancer Foundation. $500 in cash prizes are up for grabs, and drink specials include $2.50 beer and $5 vodka. $10 per team to compete in tournament. 8 p.m. Free. Prohibition, 200 N. Tryon St., prohibitionclt.com.
Bourbon and BBQ Bash
Enjoy a complimentary buffet of barbecue dishes from 8-10 p.m., followed by a performance by The Heritage, a five-person blues/funk band. Drink specials include $4 Jack Daniels, $5 Jack Honey, $5 Woodford Reserve, $4 Finlandia Vodka, and $2.50 Miller Lite. 8 p.m.-2 a.m. Free. Dixie's Tavern, 301 E. Seventh St., dixiescharlotte.com.
Antawn Jamison's NBA Back to Camp Celebrity Party
Join the Charlotte native and Los Angeles Lakers star at one of the city's largest nightclubs as he celebrates the start of NBA training camp with his celebrity friends. Hosted by Nolimit Larry and Twisted Lion, with music by DJ Shaun Nyce. 10 p.m. Free till midnight; $10 after. Club 935, 935 S. Summit Ave., club935.net.
Pulse (weekly event)
Hundreds of partiers have flocked to this event each Friday night over the last month and a half. This installment pays tribute to the ladies. Music by DJ nGenius, photography by Who Shot Ya TV, and presented by ANTique Events. 10 p.m.-2 a.m. Free. Cosmos Cafe, 300 N. College St., cosmoscafe.com, antiqueevents.net.
Saturday, September 29
PRO18 Charity Golf Tournament
This one-day tournament will benefit The SERG Foundation, Inc. and gives you the chance to take in one of Charlotte's most beautiful golf courses. The event includes 18 holes of golf, coffee, snacks, lunch, and an awards reception following the tournament. Plus, each player will receive a free greens fee on their next round of golf at Skybrook. Hosted by Parties With a Cause. 8 a.m. registration; 9 a.m. tee off. $90 donation. Skybrook Golf Club, 14720 Northgreen Drive, Huntersville, oursergonline.org, pwccharlotte.blogspot.com.
Dharma's Three-Year Anniversary Party with Miguel Migs
The popular South End lounge celebrates three years of partying with the renowned house music DJ, Miguel Migs. Opening set by Nat Eichler, along with Arthur Bros, Kev Kev, and Kt Caustic deejaying on the patio. 10 p.m. $15-$20. Dharma Lounge, 1440 S. Tryon St., dharmacharlotte.com.
Classic with 9th Wonder
The Grammy-winning producer and North Carolina native takes over the turntables. Presented by Blue Goose, Round Table Ent., and Sol Kitchen. 10 p.m. $15 in advance; VIP tables available, tami@republicofcharlotte.com. Re:Public, 314 N. College St., facebook.com/republic.charlotte, thesolkitchen.com.
Heroes x Villains
The genre-bending DJ collective known as Heroes and Villains will rock the party this night. Opening sets by DJ Edward Shouse and DJ AHuff. 10 p.m. Cost varies; VIP tables available, rsvp@buttercharlotte.com. Butter NC, 950 NC Music Factory Blvd., buttercharlotte.com.
Sunday, September 30
QC Exclusive Magazine One-Year Anniversary/Sunday Brunch Party
Celebrate the magazine's first anniversary and pick up a copy of the new issue. Choose from several delicious items on the food menu, along with pitchers of sangria on special. Several prizes will be given away, including a $500 gift certificate from Diamonds Direct, gift certificates from RE Salon, and free teeth whitening by Adult Dentistry of Ballantyne. Enjoy music by DJ Edward Shouse. 11 a.m.-4 p.m. Free. 5Church, 127 N. Tryon St. (corner of Fifth and Church streets), 5church.com.
Sunday Football at The Saloon
Watch the Carolina Panthers game and several other NFL matchups on the many televisions. Food and drink specials include 50-cent wings and sliders, $6 Bloody Mary, $10 domestic beer buckets, and half-price draft beer. Plus, every item you purchase will enter you into a raffle for a chance to win a $50 gift certificate to the bar, which you can use that day or any Sunday. Doors open 11 a.m. Free. The Saloon at NC Music Factory, 900 NC Music Factory Blvd., thesalooncharlotte.com.
Team Fox for Parkinson's
Inspired by the Michael J. Fox Foundation, this event will raise money for The Robert Haywood Memorial Fund to battle Parkinson's disease. Live performances by JD Deservio from Zakk Wylde's Black Label Society, The Rock U Roadshow, Moses Jones, Jay Mathey, Carrie Marshall, M.I.K.E., and the Howl at the Moon Band. 3-10 p.m. Donations welcomed. Howl at the Moon, at EpiCentre, 210 E. Trade St., howlatthemoon.com/charlotte, nyc4dad.com.
Verify dates, times, prices, and other info at the web addresses listed for each event.
Be sure to bookmark www.charlottemagazine.com/Blogs/Dusk-Till-Dawn to stay plugged into Charlotte nightlife. Follow me on Twitter @HollidayInk; email me at jarvish@grownpeopletalking.com.