For Some Charlotteans, Kemba Walker—Not the Hornets—Was the Draw
Catching up with the player's close friends mentioned in his goodbye letter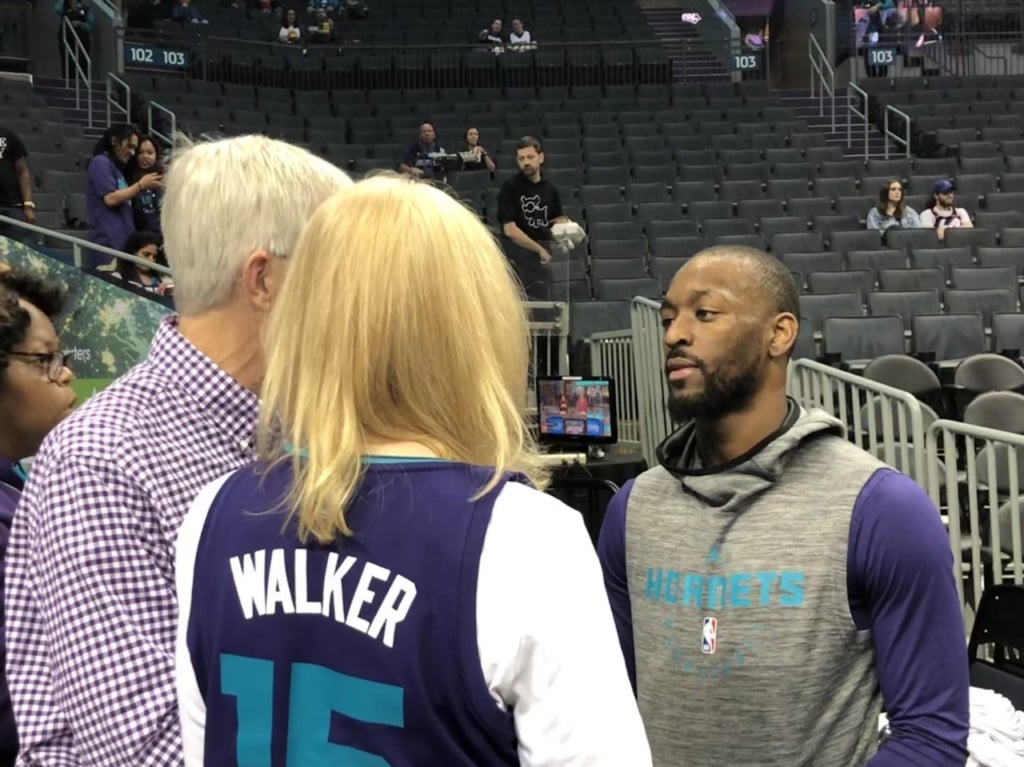 A COUPLE WEEKS AGO, Mike Peeler saw Kemba Walker and because he knew how uncertain the future was, he made sure to tell his good friend that there would be no hard feelings if Peeler's worst fears came to fruition.
"No matter what," the 68-year-old Peeler told Walker, "we still love you and we're going to come see you play. It's just a lot easier when it's in Charlotte."
Two weeks later, Peeler is a man of his word, but he's still "pretty upset" and his good will does not extend to the Charlotte Hornets.
"We are huge Kemba fans," Peeler says. "Right this second, way more than Hornets fans."
In case you haven't heard, Kemba Walker, the Hornets' All-NBA, All-Star point guard left Charlotte this week. He signed a four-year, $141 million contract with the Boston Celtics, reportedly passing up $160 million over five years to stay with the Hornets team that drafted him eight years ago.
The one advantage the Hornets had in re-signing the free agent player who the front office professed to love and want to have finish his career in Charlotte was the ability to offer more money. But wary of paying a luxury tax that kicks in when a team's payroll exceeds the salary cap, the Hornets actually offered less per year ($32 million versus $35.3 million) than the Celtics.
None of those numbers or facts makes sense to Peeler. He doesn't understand how the Hornets got into this predicament with so many unwieldy contracts that prevented them from retaining the one player who made Hornets games thrilling. And he doesn't understand why Hornets owner Michael Jordan wasn't willing to pay the luxury tax penalty for one season, or what, exactly, the plan is for moving forward.
"It's baffling that a guy who was as great a player as Michael Jordan was is this bad an owner," Peeler says. "I just don't know what to say about it right now, we're just so disappointed. Kemba was a big part of our enjoyment of the Hornets."
That's the key: More than anything, Mike Peeler and his wife, Elizabeth, are just sad their friend is moving away.
The Peelers have considered Walker a friend since the longtime season ticket holders met him in Walker's rookie season, 2011. He came to their house as part of a Hornets promotion, the couple and the immensely talented point guard hit it off, and they have stayed in touch ever since.
Walker, 29, would come to the Peelers for dinner at least once a season. And before every home game at Spectrum Center, Mike and Elizabeth waited near the Hornets bench with freshly baked brownies to present as a pre-game treat and to chat with their favorite player.
In a farewell letter Walker wrote for The Players Tribune, he expressed how much he'll miss his pre-game routine with the Peelers.
"Mrs. Peeler's homemade brownies … I'll be missing those for sure," Walker wrote.
The Peelers, who have had season tickets for 29 years, already committed to renewing their package for the upcoming season. But with the prospect of another dismal year ahead of them, they are seriously contemplating what they'll do in the future.
"We've been through a couple of rebuilding cycles," Peeler says, "and honestly probably the only reason we made it through this one is that we knew Kemba and at least had him to cheer for going through the process … "
No, the Peelers aren't so sure if they're still "Hornets fans."
They'll forever be Kemba Fans, though.
"He certainly hasn't gotten the last brownies from us," Peeler says.