Four Downs with Panthers Fullback Mike Tolbert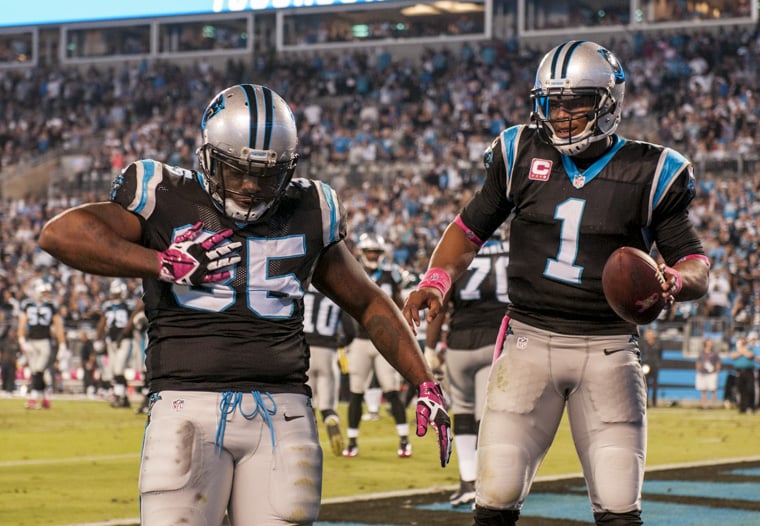 Panthers fullback Mike Tolbert is this week's subject in our "Four Downs" series.
FIRST DOWN
BV: You've been with the Panthers since 2012. What's it like being a player around town right now compared to previous seasons?
MT: We definitely feel the love more around the city. Everywhere I go, people recognize me now. I mean, people recognized me beforehand, but now there's a lot more love.
SECOND DOWN
BV: You spent your first four seasons in San Diego, a place where many would love to live. How would you compare Charlotte and San Diego?
MT: San Diego's a beautiful place, a great place. Charlotte's way cleaner. It's a great city; I love Charlotte.
THIRD DOWN
BV: You're a southern guy at heart, though. Grew up outside Atlanta, went to Coastal Carolina. I know you love food, so what restaurant did you miss when you were on the West Coast?
MT: Zaxby's. I love Zaxby's.
FOURTH DOWN
BV: As far as a more formal restaurant, what is your favorite one in Charlotte?
MT: Chima.
BV: Not even a question?
MT: Not even a question.
BV: How often do you go?
MT: Once a week.
BV: What would you say is the percentage of time you have your card flipped to green, meaning the waiters keep bringing food?
MT: If I'm there for an hour, I'm on green probably 35 minutes. I keep it coming. I'm paying for it, might as well.
BV: Do you say no to anything?
MT: Yes. I don't eat the pork sausage. I don't eat the garlic pork. I don't get the baked chicken.
BV: Yeah, those are a waste of valuable stomach space. Do you hit up the salad bar?
MT: This is my routine. I go in; we sit down. I get my kids' plates. My kids like the rice, the bread and the cheese. Sit them down, let them get to eating, then I go get me a salad. A nice little starter, a little prep game. Then I turn over to green. It's time to get it.