Four Downs with Panthers Kicker Graham Gano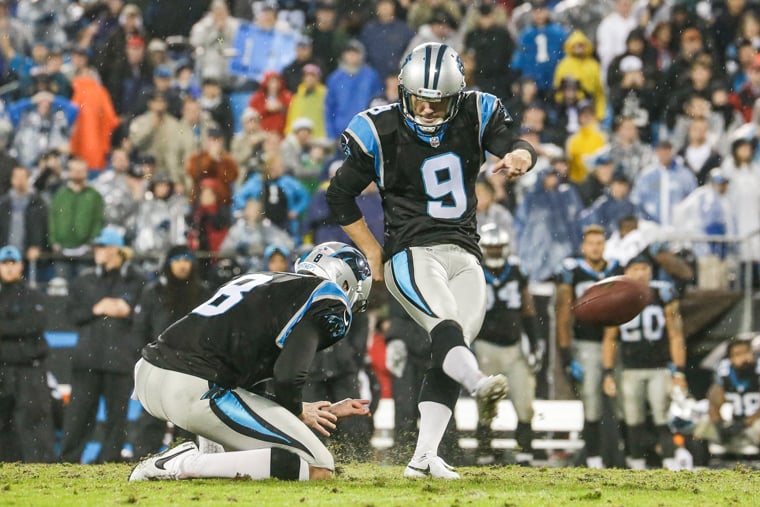 Panthers kicker Graham Gano is this week's subject in our "Four Downs" series.
FIRST DOWN
BV: We have to start with your award. This morning you were named NFC Special Teams Player of the Month for November. What was your reaction when you found out?
GG: "Well, I was making a bagel in the cafeteria. Then my phone started blowing up, and I was like, 'Wait, what? That's pretty cool.' But I was waiting on the bagel to pop because I was pretty hungry."
BV: What kind of bagel?
GG: "It was a blueberry bagel and I put some cream cheese on it."
BV: What kind of cream cheese?
GG: "It was Philadelphia, regular."
SECOND DOWN
BV: Like many kickers, you're a soccer fan. Do you think the city could support an MLS team?
GG: "I think it could. This city's really loving sports. We get great attendance for Knights games. I've only been to a couple of the Hornets games and I've been to a bunch of Panthers games."
BV: Funny. You must have a good ticket hookup.
GG: "But, no, I think it'd be good. I just don't know where they'd put the field."
BV: Would you be willing to share your field with the soccer team?
GG: "I don't know if that would be good. You know kickers and grass. Unless we got a turf field – that would be nice."
THIRD DOWN
BV: As someone who went to Florida State, is it tough being outnumbered by fans of other ACC schools here?
GG: "It's not usually because we've had some good success in recent years. But this year I heard it from the Clemson fans, especially because I gave it to them on Twitter a little bit and they gave it to me right back after they beat us. It's all in good fun, though. I have a lot of friends that are South Carolina and Clemson fans, so it's a friendly banter back and forth."
FOURTH DOWN
BV: Let's finish up with restaurants. What's your favorite Charlotte-area restaurant to go with your wife?
GG: "Cowfish."
BV: What do you get there?
GG: "The Doug's Filet, the sushi. We normally just go with sushi. They have a lot of good food there, but that's our favorite."
BV: And which restaurant do you guys like to go with your kids?
GG: "We take them to Cowfish."
BV: Really?
GG: "Well, we like going to Chick-fil-A with the kids because they like the little play area, and my son likes getting the chocolate milkshake."
BV: But you also take them to Cowfish?
GG: "Yeah, they have this little plate with mac & cheese or chicken nuggets. They have sliced up apples and a little sushi for the kids, but it's a Rice Krispy Treat with a Swedish Fish on it wrapped in candy."
BV: The kids must love it.
GG: "Oh, they love it. And they have little chopsticks."