Four Downs with Panthers Linebacker Thomas Davis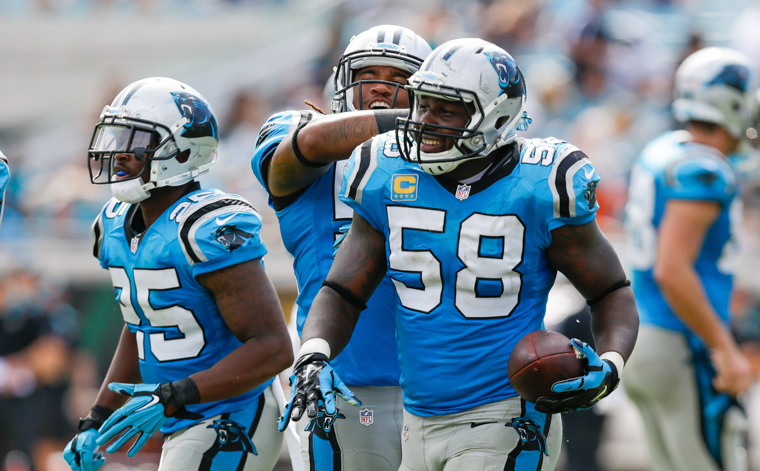 Panthers linebacker and the NFL's 2014 Walter Payton Man of the Year Thomas Davis is this week's subject in our "Four Downs" series.
FIRST DOWN
BV: We'll start off with the question I ask every week – what's your favorite Charlotte restaurant?
TD: "Del Frisco's."
BV: Guessing you get the steak. Which one?
TD: "I kind of bounce back between the Porterhouse and the Longbone."
SECOND DOWN
BV: You do so much in the community, but how much has Charlotte helped you?
TD: "The city has definitely been huge. They welcomed me and my family, having so much support with everything we've been able to do, not only as football players but in the community. It's been huge and we're excited to be a part of this community."
THIRD DOWN
BV: You were drafted by the Panthers in 2005. What did you make of Charlotte back then?
TD: "I loved the city. It was relatively close to Georgia and home, and it reminded me of Georgia a lot. Charlotte was definitely a welcoming city and I loved being here."
BV: And how much has it changed since you've been here?
TD: "Man, it's crazy to see the growth the city that this city has made. To think about the people who were here before me, how much they say that it changed even before I got here, it just shows the growth of this city and the impact that, I feel, sports has had in the city and I'm looking forward to Charlotte continuing to grow."
FOURTH DOWN
BV: What do you think the Panthers mean to Charlotte?
TD: "I think it means a lot to this city. To have a football team, to have a team that's playing as well as we're playing right now, giving them something to be proud of, I definitely feel like it energizes the city."