Four Friends releases Punkin' Brewster Friday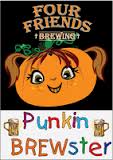 This past Sunday was the first official day of fall. That means cooler weather; daylight savings time is fast approaching (ugh) and, most importantly, the best season to be drinking pumpkin beers.
In late August, I wrote a post wondering whether there was a right time to drink pumpkin beers, with so many hitting the shelves earlier and earlier each year. But there's no question these seasonal beers taste a little better in crisp weather rather than under a hot sun.
In conjunction with fall now officially here, Four Friends Brewery is set to release its pumpkin beer, the greatly-named Punkin' Brewster. This beer made its debut last year to rave reviews, with a solid spice flavor and light body (despite it coming in at 7% ABV).
Punkin' Brewster will start rolling out into bars and restaurants in the next week or so, but you can first get it at the brewery's tap room this Friday, Sept. 27 starting at 5 p.m. This will also be the first year Punkin' Brewster will be available in 22 oz. bottles, which you can pick up at the brewery or select local bottle shops.
As part of the in-brewery release, there will also be a pumpkin-carving contest. Bring your carved pumpkins in and see how you match up against Four Friends' staff. And better bring your A ("P?") game, as there's an important prize for the winners. The top three will receive two tickets to Saturday's Charlotte's Oktoberfest, which is now officially sold out.
Four Friends is also set for a grand opening of its new taproom next weekend. I'll have a post about that in next week's On Tap.