Four Not-to-Miss Opportunities
In these final days of winter, enjoy an orchid display and brush up on your gardening and food-preservation skills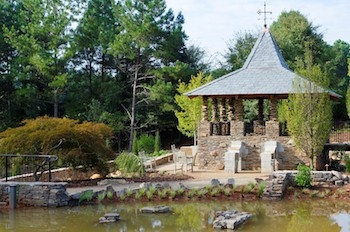 Last chance to see Art & Orchids
You have until March 18th to head west to Daniel Stowe Botanical Garden in Belmont to see the Art & Orchids exhibit. This year's exhibit, titled Finding Lost Hollow: The Art and Imagination of W. Gary Smith, pairs Smith's artwork with orchids. The bright, colorful orchids, from the garden's collection of more than 5,000 plants, complement Smith's fantasy drawings. Visitors will see how Smith's work translated into the design of the new children's garden, Lost Hollow. On Sunday, March 8, the garden will hold a workshop on photographing orchids. Click here for details.
Two Gardening Workshops at Wing Haven
The first will be this Saturday, March 7. It's called Making the Most of Small Spaces. Visitors will learn about container gardening and what plants work well in planters. The hands-on workshop starts at 9:30 a.m.; it costs $12 for members and $15 for nonmembers. The second class takes place next Saturday, March 14, and is specifically for children (ages 10 and older) and families. Ben Fletcher, Wing Haven's garden curator, will give instructions on backyard vegetable gardening. The class starts at 10 a.m. and is $5 for members' children and $8 for nonmembers' children. Adults are admitted free with a paying child. Click here to register.
For Gardening Beginners
On Tuesday, March 17, (6:30 p.m. to 8:30 p.m.) and Wednesday, March 18 (10 a.m. to noon), Renfrow Farms in Matthews will hold a class called When Can I Plant Tomatoes? Garden Planning for the Complete Beginner. The classes are part of a yearlong on-the-farm teaching series with Jeff Rieves, a former agent for N.C. Cooperative Extension. The class is $20 a person or $30 for a couple. Children younger than 16 can attend free with a family member. Click here for registration instructions.
Preserving the Harvest
Mecklenburg County Cooperative Extension offers a class on Wednesday, March 11, on home food preservation. The class involves the basics for canning, freezing, and drying fruits, vegetables, and herbs. The class offers the latest in canning science, making it beneficial for even seasoned canners. The class is part of the Extension's yearlong Sustainable Living Series, and it is a prerequisite for future classes on making jams and jellies, pickling, canning juices and syrups, and pressure canning. The cost is $5. Click here to register.