Four Ways To Unwrap New Traditions at Kiawah Island Golf Resort, All Season Long
In Partnership with Kiawah Island Golf Resort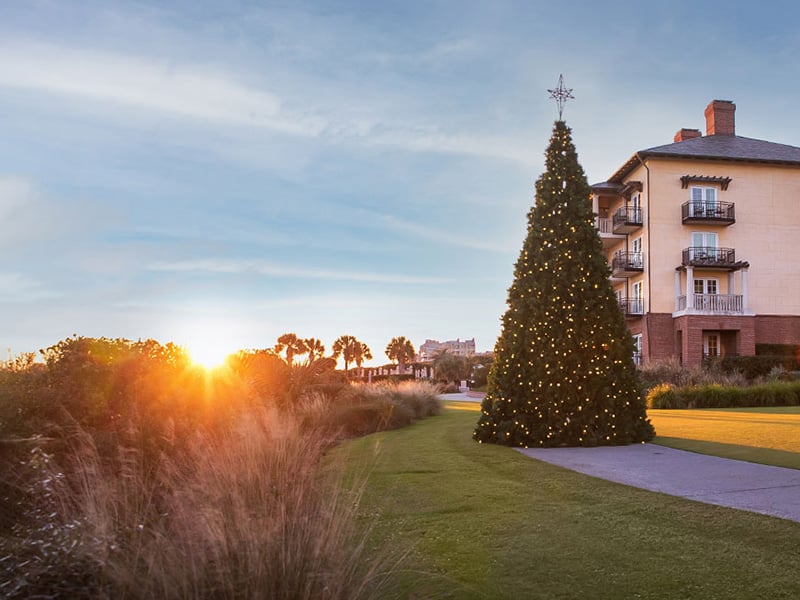 A magical place any time of year, Kiawah Island Golf Resort becomes truly enchanting during the festive season—when fabulous feasts and decked halls mingle with golden sun and salt-kissed air. Beginning the week of Thanksgiving and continuing through New Year's Day, resort guests are invited to enjoy the island in their own special way, Lowcountry style.
Oh, What Fun For Families!
After a Thanksgiving turkey-and-pumpkin-pie-fueled sleep, kids (and kids at heart) wake up to an especially merry and bright day with the much-anticipated island arrival of a special "celebrity" couple dressed in red. Yes, Mr. and Mrs. Claus take up residence at the resort to share story time and hear holiday hopes from all the good little guests. Children also have the opportunity to pen their private wishes at a special letter-writing station to be posted in the express mailbox in the lobby at The Sanctuary. Even more sparks of joy come from a grand tree-lighting ceremony, the unveiling of a life-sized sculpture crafted entirely of chocolate, tasty seasonal treats and all-ages holiday craft workshops, where families can create meaningful handcrafted gifts together. These are days of good cheer and warm cocoa.
The Greatest Gifts for Foodies
Sit down to a lavish Thanksgiving feast at your choice of resort restaurants—from fine dining to relaxed clubhouses. The following day, a beloved tradition lives on at Mingo Point Oyster Roast & BBQ. Here, guests can live like locals as they savor fresh oysters roasted over an open fire—along with barbeque specialties including ribs, pulled pork, smoked chicken and more—all to be enjoyed under a lush canopy of ancient oaks. Christmas Eve presents yet another collection of unique culinary experiences, including the time-honored Italian tradition of Festa dei Sette Pesci (Feast of the Seven Fishes) in Tomasso at Turtle Point. Of course, these are just a taste of the many special culinary events hosted at the resort through New Year's Day. The Kiawah Dining collection offers a diverse range of foodie explorations—including sustainable seafood offerings and farm-to-fork flavors—across the island daily.
An Adventurer's Wonderland
Seasonal change in the subtropical zone is softer and subtler than in other latitudes, allowing Kiawah Island's unspoiled setting to open its arms to outdoor adventure year-round. Between holiday dining and events that embrace the spirit of the season, you are fully free to pursue your passions through boundless daily pursuits. On land, you can reconnect with nature on guided island excursions or bike along miles of sandy beaches and paths twisting through maritime forests. On the water, you can paddle or cruise saltwater marshes, encountering fiery sunsets and friendly Bottlenose Dolphins, or embark on an inshore, coastal or reef fishing charter.
Happier, Healthier Holidays for All
The festive season at Kiawah Island Golf Resort can also be celebrated as the fitness season. Balance hearty holiday indulgences with heart-healthy activities that make the most of the island's natural beauty. Before tucking into your favorite dishes at Thanksgiving dinner, participate in a 5k or one-mile fun run as part of the resort's annual Turkey Trot. Runners who consider those distances to be "just a warm-up" can register for The Kiawah Island Golf Resort Marathon and Half Marathon, held on December 10, 2022. And for those who've never run a step in their lives but want to race boldly into the new year, the resort's Polar Bear Plunge invites you to take a bracing dash into the waves of the Atlantic Ocean on January 1, 2023.
Unwrapping new traditions at Kiawah Island Golf Resort is one resolution that should be made perennially. The only question now is, how will you celebrate the festive season, Lowcountry style? Visit KiawahHolidays.com to explore all the amazing possibilities. You can also speak with a reservationist at 866.469.4399 to begin planning your one-of-a-kind island getaway.