Fourth Ward Holiday Home Tour
In its 37th year, the neighborhood event includes carolers, carriages, and plenty of warm hospitality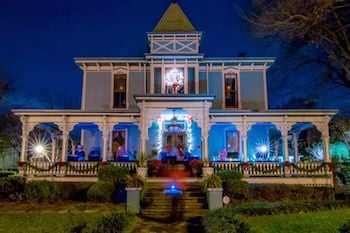 Thanksgiving is through and Christmas is still a few weeks away, so this weekend, take some time to revel in the season. See a show uptown, sip a seasonal brew at a local taproom, and admire seven homes in Fourth Ward filled with elegant, spirited decorations.
The 37th annual Friends of Fourth Ward Holiday Home Tour takes place this Friday, December 5, through Sunday, December 7. The seven homes on the tour are private residences and are all in walking distance. One of the stars of the tour is the historic Berryhill House, which the neighborhood calls its "flagship Victorian." On Sunday only, the McNinch House Restaurant and residence will be open for tours.
In addition to sharing ideas for holiday decorating, the tour sets the tone for the holidays. Along the route and inside certain homes, vendors offer snacks and beverages. Choirs and hand-bell ensembles perform seasonal music on front porches. Horse and carriage rides carry participants throughout the neighborhood. The nearby 7th Street Public Market offers tastings, live music, and holiday shopping during all tour hours.
The holiday tour began as a private event in 1977 when neighbors visited each others' houses. Two years later, residents opened the tour to the public as a neighborhood fund-raiser. Tickets are $25 and cover admission for all three days. All proceeds support neighborhood projects throughout the year. Tour hours are 5 p.m. to 9 p.m. on Friday and Saturday, and 1 p.m. to 5 p.m. on Sunday.
To learn more about the tour and purchase tickets, visit the Friends of Fourth Ward website here.