Frankly, A Grand Opening
The Red Hots finally make their debut in Ballantyne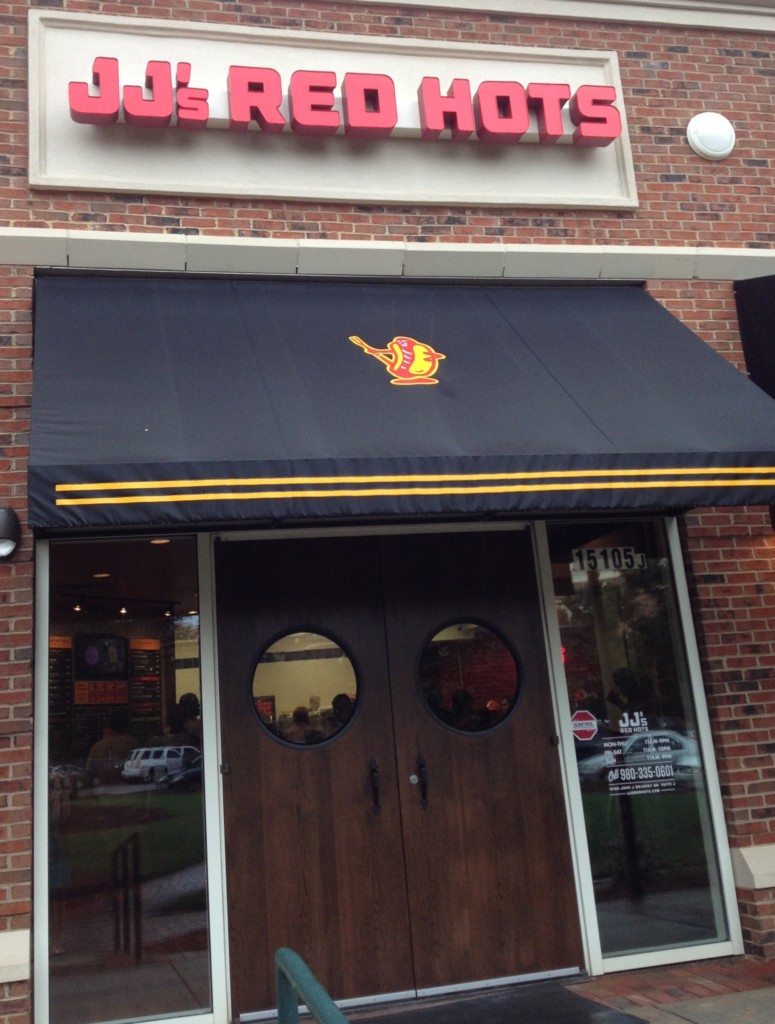 Despite the rain and wind, I headed over to the newest addition to the JJ's Red Hots family, which celebrated its grand opening yesterday. Clearly, I wasn't the only one who had decided to seek shelter from the weather in the hip new spot.
Upon opening the giant wooden doors, I could see that the new space was full to the rafters. Families took up most of the tables inside (save one, which I greedily took over), patrons sat at each of the open spots at the bar in the far right corner, and employees at the front counter rushed to fill orders. The whole atmosphere was cheery, busy, noisy, and fun. I can't help but think this new eatery will be a great spot for meet-ups after work or a casual dinner for a family.
On to the food: I will admit, I originally intended to just grab a few items and head back to my apartment to eat, BUT upon spotting that open table, I changed my mind and sat to enjoy my Poblano Picasso (the Dog of the Week), Bowl of Red (JJ's homemade chili), Soon-to-be-Infamous Onion Rings, and a house-made Arnold Palmer.
My first thoughts on all of the food — well-executed and great for a quick bite. The Poblano Picasso, which featured beer queso, grilled onions, grilled poblanos, tomatoes, all nestled on top of a grilled frank, was messy but good. I do wish there was more queso (because, well, cheese) but I can see where then even attempting to pick up the dog would be problematic. The onion rings weren't like any I've ever had — they were lighter, crispier, and a little difficult to pick up, but my fork came in handy here. Lastly, the Bowl of Red — JJ's chili made with very finely ground beef, borracho beans, diced red onions, and cheddar cheese was delicious on it's own OR topping bites of my hot dog. Don't think of this as a big, chunky, chili — it really is more of a topper-chili. All this was washed down with my Arnold Palmer — one of the lemonade-based beverages that JJ's makes in house from scratch.
Had it not been for the rain, I would have enjoyed my feast at one of the many tables on the patio. A few braver families were outside despite the on-and-off drizzle.
I would definitely recommend JJ's new spot as a casual and fun destination any night of the week or a spot to grab a quick bite or quick drink. Congratulations to the JJ's family on a great grand opening!