Fresh and Springy at e2
It's a season of renewal via food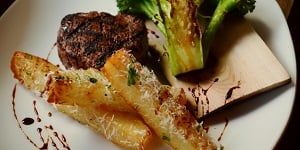 We're just about on the cusp of summer, but it doesn't mean it's time to stop celebrating fresh flavors. In uptown, e2 Emeril's eatery is taking its cues from Mother Nature. The restaurant has new lunch and dinner menu offerings that highlight the season's flavors. Chef and owner Emeril Lagasse and chef de cuisine Brian Mottola collaborated to craft new menu items that focus on Lagasse's signature "New New Orleans" cuisine—but with a Carolinas accent.
"We're always looking for new sources of inspiration," said Chef Mottola in a press release. "We're excited to introduce our latest menu items to guests, and we think there are a few that are destined to become new classics."
Some new dishes pay culinary homage to Lagasse's Cajun roots. The grilled half chicken ($24), for instance, is seasoned with New Orleans' Community Coffee barbeque sauce along with roasted vegetables and "street" corn. A peek of the new starters, entrees and desserts on the dinner menu include:
Starters
Praline Braised Bacon with bosc pear, mint and pickled ciopollini onions ($9)
Housemade Boudin Cake and Andouille Sausage black-eyed peas, peppadew and caramelized onion ($7)
Entrees
Grilled Filet Mignon paired with cedar-planked broccoli, house potato and Emeril's Worcestershire ($30)
Grilled 1/2 Chicken topped with community coffee barbeque sauce, roasted vegetables and "street" corn ($24)
Wood Oven Roasted Grouper sauce piquante, icy blue mussels, black Carolina rice and herb pesto ($26)
New Bedford Scallops saffron risotto, chorizo, roasted red peppers, pea shoots and crispy chicken skin ($26)
Desserts
Key Lime Pie with toasted marshmallow, coconut cream and graham cracker crust ($8)
Warm Pecan Tart milk chocolate ice cream, chocolate fudge and sea salt ($8)
Lemon Bars featuring a cornmeal crust, lemon mascarpone ice cream and blueberry preserves ($6)
Sweet Potato + Chocolate Chip Cheesecake chocolate chip cookie crust, coconut and pecan caramel, and citrus ($8)
Head over to e2 for the full menu of all the spring offerings!