Fresh on the Doorstep
When the farmers market experience doesn't suit your schedule, place an order with The Produce Box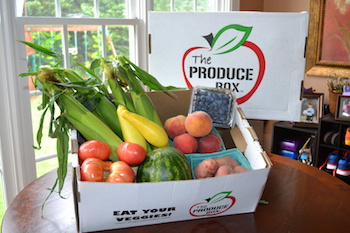 Meaghan Blake likes to support local. Her husband enjoys cooking and wants to use fresh ingredients. They were members of a CSA (community supported agriculture) program before moving to Charlotte. Once they got here, they became farmers market regulars.
But as their three kids get older and sports schedules become more complicated, farmers market trips are less convenient. Plus, Blake's running group meets on Saturday mornings, and she doesn't want to miss that.
So instead of shopping the farmers market, they place a weekly order online at theproducebox.com.
Blake is now a Charlotte area manager for The Produce Box. The company is based in Raleigh and delivers produce in Charlotte, the Triad, and Wilmington in addition to the Triangle. About 400 members purchase from The Produce Box in Charlotte, which became a delivery area this past fall.
Founder Courtney Tellefsen, a stay-at-home mom turned entrepreneur, started the company in 2008 to bring fresh produce to busy people. That initial idea has grown into a network of about 200 neighborhood coordinators, 50 people working at the receiving and packing hub in Raleigh, a growing network of farm suppliers, and about 9,000 statewide members who order boxes of fresh produce each week.
"That was not the original intent," Tellefsen says of the company's growth. "But as more and more farmers participated, they realized it was a good way to get the word out, get the produce out. The more farmers that were interested in working with us, we realized we needed to expand and give them a bigger market."
Most of the produce boxes cost $26. Tellefsen estimates their farmers market value to be $21 or $22. So customers pay about $5 for the delivery service. Boxes are customizable, with such options as different sizes for larger or smaller households, all organic, and a fruits-only box. Unlike many CSAs that often have a flat fee for the season, customers only pay for what they receive and can cancel if they're going to be out of town.
Tellefsen's business partner Kevin O'Connell, a trained chef, oversees quality control. This week, he's visiting blueberry farms. He visits every farm and goes through a checklist with the farmer to ensure the produce meets company standards. Last week, the company delivered 6,000 boxes filled with 36,000 items. They only received replacement requests for 50 items.
"We have a set system for how to store it, how to pack it, … and all of these have check points," Tellefsen says. "You can't just wing it."
As she recruits more customers, farmers, and coordinators, Tellefsen plans to stretch the company's reach farther into western North Carolina and establish a receiving and packing hub in Charlotte.
Blake, her family, and her neighbors are all for it. Since Blake's been working with The Produce Box, her family's meals are more reflective of the seasons, and she's teaching her kids about where their food comes from. She's also receiving an agricultural lesson or two.
"I've learned so much about farmers in the Carolinas," she says. "They work so hard, and it's so tied to the weather. You know those things, but until you hear these stories from a person, it doesn't sink in."