Fresh-Picked Drinks
As bushels of berries turn up at the farmers market, try adding them in your favorite sip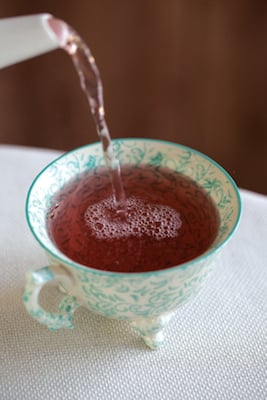 When you make your weekend trip to the market, grab an extra bucket of berries and try adding them to your favorite drink. Here are three of our go-to recipes from the pages of Charlotte Home + Garden. (Click the photos for links to the full recipes.)
For your morning cup of tea, or an afternoon tea-time gathering, add a handful of raspberries to your boiling water and let it steep overnight. Madge Eggena of Mills Garden Herb Farm also adds a handful of peppermint to the liquid for a refreshing peppermint raspberry tea.
photo by logan cyrus
Sangria is a fun drink for a group. It's pretty and easy to make in large quantities. It's also customizable to your tastes and whatever fruit is in season. This time of year, drop in sliced strawberries or fresh blueberries, or try muddling some blackberries or raspberries. This base recipe comes from Vida Mexican Kitchen Y Cantina.
photo by istock
A milkshake is the ultimate sweet midnight treat. For a little something different, try these milkshake mix-ins. Again, this recipe is also customizable, so you could use frozen yogurt instead of ice cream, chocolate or almond milk, or even your favorite booze. Blueberries with chocolate stout make a surprisingly smooth combination.