Fresh Produce in October
A Visit to The Bradford Store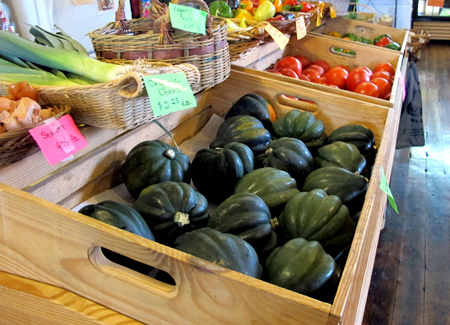 The Bradford Store, located near Huntersville and Davidson, is a food market specializing in local fresh foods, local free-range products, and organic goods. I stopped by last week and was surprised at the range of fruits and vegetables still available. The Bradford Store is located at 15915 Davidson-Concord Rd. in Davidson, and is open from 10 a.m. to 6 p.m. Tuesday-Friday, and Saturday from 9 a.m. to 4 p.m.
---
Below are six local produce options still in season for October. We hope it inspires you to shop locally and create a seasonal recipe or two!
1. Squash
Acorn, Butternut, and Kabocha are all in season. And check out these three squash inspired recipes.
2. Apples
Local varieties include Mutzu, Red Delicious, Cameo, and Ginger Gold. They may inspire you to make homemade applesauce.
3. Peppers
A range of peppers including jalapenos, bell, and multi-colored.
4. Grapes
Muscadines and scuppernongs are still available.
5. Greens
Kale and collard greens! Perfect addition to your next homemade pizza.
6. Potatoes
A variety of potatoes including Idaho, purple, and red.