Fresh Take: A Visit to Fat Cat Burgers + Bakeshop in Dilworth
Fran Scibelli reimagines an old local favorite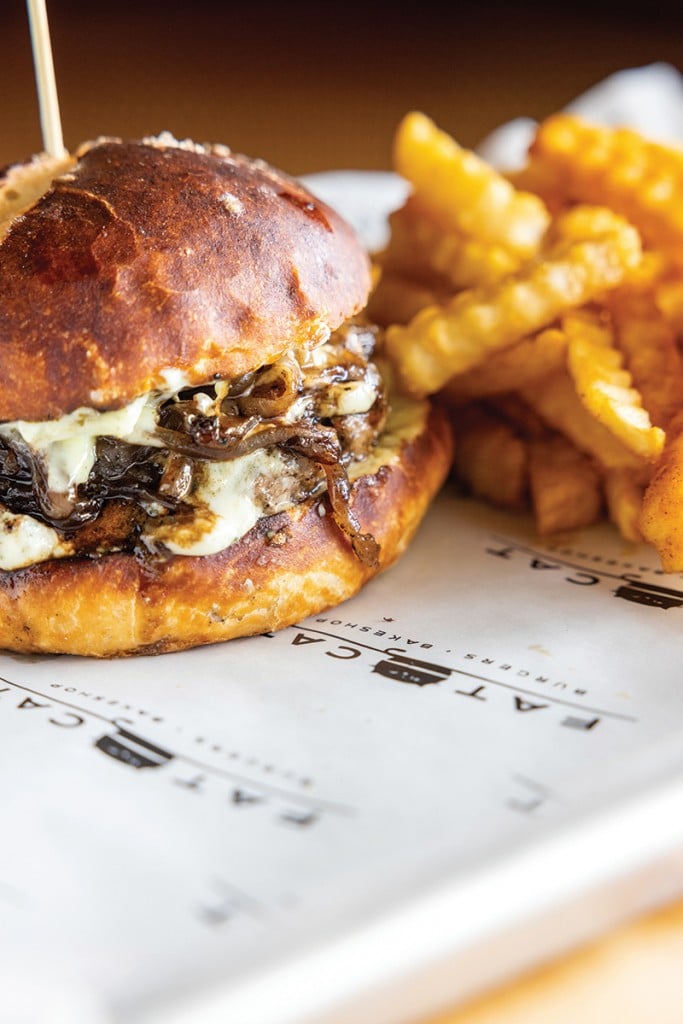 When you visit Fat Cat Burgers + Bakeshop early on a weekend morning, the aroma of fresh-baked bread and cinnamon rolls hits you from the parking lot. Follow the smell to the walk-up donut window to the left of the entrance, and you'll see a dessert case that brims with maple bacon donuts, confetti cookies, and blueberry crumb cake straight out of the oven. Grab a box to take home, or sneak a bite (or six) on the spot. Nobody will blame you.
Veteran restaurateur Fran Scibelli is behind the Dilworth eatery and bakery, which opened in the Park Square Shopping Center in April. The 4,000-square-foot space had housed her previous concept, Fran's Filling Station, since 2009, but a sales slump during COVID compelled her to reboot. She'd toyed with the idea of opening a donut shop for a few years, but she needed to pare down her menu to keep her costs manageable. So she added the walk-up window, gave the dining room a splash of red paint and new natural wood tables, and revamped the menu with loaded burgers, sandwiches, and a rotation of bakery items. She kept a few old favorites, too, like the New South Fried Chicken Sandwich and the Bacon-Wrapped Tater Tots. The restaurant is open for lunch and dinner daily; the donut window opens at 8 a.m.
If you come for dinner, have a seat in the dining room, at the eight-seat bar, or on the patio. Order an OMB Copper or Juicy Jay from Legion Brewing, or get wine by the glass or bottle. Cocktails include the Lemon Kiss ($10) with limoncello and sparkling wine; Peachy Keen ($11) with sweet tea vodka and peach schnapps; and Loaded Coffee ($13) with Magnolia coffee, Jameson, and Baileys.
Start with an order of Chili Cheese Fries ($6), a heap of crinkle-cut fries or waffled sweet potato fries topped with Fran's chili and queso. The House Soft Pretzel ($7) comes with a side of OMB Copper-spiked beer cheese dip and won't last more than five minutes if you've got a hungry crowd.
For something lighter, see the lineup of salads. Get a Classic Wedge ($8), Ribboned Tuscan Kale ($12), or Green + Grain ($13), and add a protein like crispy or grilled chicken ($4), salmon filet or lamb burger ($7), or Impossible burger ($7.50). The Latin Wedge ($10) is Fran's spin on the traditional wedge with avocado, corn, tomatoes, white cheddar, red pepper, and cilantro. Top it with grilled chicken or salmon for a heartier entrée.
Fat Cat's burgers offer a plethora of choices, beginning with the bun: pretzel, potato, grain, or gluten-free. Proteins include beef, grilled or crispy chicken, salmon, lamb, or Impossible burger. Next, choose from 12 signature setups like the California ($14), topped with bacon, avocado, havarti, and house ranch; the New American ($14) with basil mayo, balsamic onions, and blue cheese; or the Hellaceous Honey ($13) with spicy honey, jalapeño bacon, and pepper jack cheese.
If you can't decide on one combination, we recommend ordering two different sandwiches and going halfsies with a friend. Try the New American with lamb burger on a pretzel bun, and have the Hellaceous Honey with fried chicken on a potato roll to get more of the Fat Cat experience. And remember: These sandwiches are two-handed affairs, so ask for extra napkins and don't be afraid to take big, vulgar bites.
If you still can't decide, the Fat Franny ($15) is a sweet-and-savory monstrosity of a sandwich: a beef burger or fried chicken smothered with pepper jack cheese and crispy onion rings lodged between two maple bacon donuts. Eat it with a fork and knife if you must, but if you don't leave a big happy mess behind, you're not doing it right.
When you build a menu around burgers, donuts, and fruity cocktails, diners will inevitably follow. Come for a casual date night, bring the kids for lunch, or treat yourself to a donut if you're in the neighborhood. Fran's new concept is colorful, creative, unpretentious, and indulgent—but more than anything, it's just really fun.
---
Fat Cat Burgers + Bakeshop
2410 Park Road
Hours:
11 a.m.-9 p.m. daily
*No lunch or dinner on Mondays due to labor shortage at press time
Donut window:
8 a.m.-12 p.m. Monday;
8 a.m. until sold out Tuesday-Sunday
Don't leave without trying: The Fat Franny ($15) is the house signature, with two maple bacon donuts that sandwich your choice of a beef burger or fried chicken with pepper jack cheese and onion rings.
Know before you go: The donut window sells out fast on weekends, so don't sleep in too late.