Fresh Take at Luna's Living Kitchen
Owner Juliana Luna on the restaurant's "Lunasagna"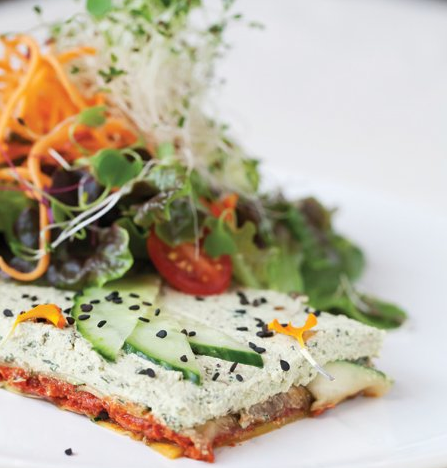 Luna's raw, vegan take on this Italian staple is light, fresh, and delicious. It's served chilled—you won't mistake it for the three-inch-thick lasagna your grandmother used to make, and that's a good thing.
"I've always eaten this way—organic, local, vegan—and I've nourished my family this way," Luna says. "This Lunasagna took a lot of experimenting in my kitchen at home until I got it right, but once I did, I knew it had to go on the menu."
Side Salad
The greens in the side salad are organic, local, and hydroponically grown at Tega Hills Farm in Fort Mill, S.C. Also included are microgreens, sprouts, lentils, mung beans, and sweet potatoes. Grated walnuts and Brazil nuts are a flavorful garnish.
Red Sauce
The sauce is made from a blend of fresh tomatoes, sundried tomatoes, and onions, adding a slightly tangy, slightly spicy zest to the dish. The coolness of the sauce mixed with just a hint of spice is reminiscent of an Italian-inspired gazpacho.
Cashew Basil Cheese
This vegan cashew cheese with basil has the same consistency of ricotta. Light and airy, the basil adds a hint of sweetness. "I love cashews, because you can do anything with them," Luna says. "They have a high fat content, so you can make a cheese, a sour cream—even an ice cream. The cashew cheese with basil was perfect for my lasagna."
Zucchini "Noodles"
Instead of using whole wheat, rice, quinoa, or some other variant on traditional pasta noodles, Luna layers thinly sliced zucchini to form the Lunasagna. The vegetable substitute adds a nice crunch. It's not exactly the same texture as the traditional pasta, but similar enough that the mild zucchini adds an element that's missing in conventional lasagna—texture.