Fresh Take: Figo36 in NoDa
It joins the casual Italian trend with a late-night spot where the food seems secondary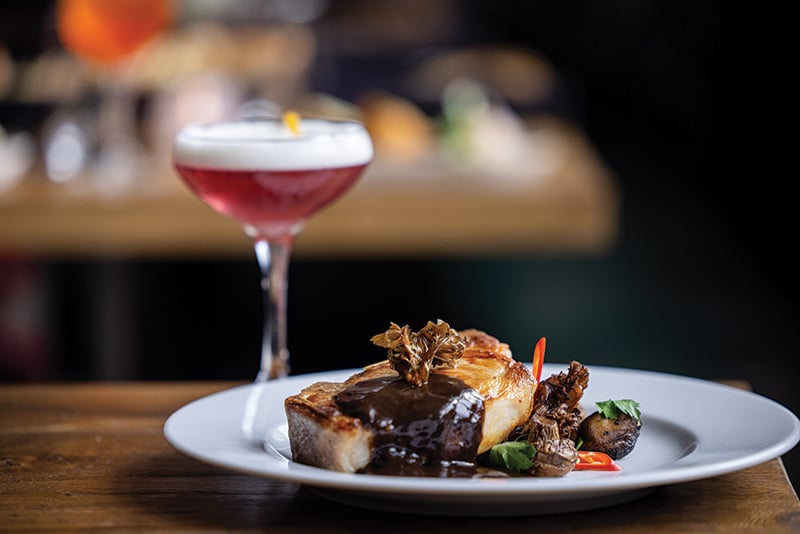 When you open an Italian restaurant in a space previously occupied by another Italian restaurant, comparisons are inevitable. When that restaurant was owned and operated by a James Beard-nominated chef, you have some big Birkenstocks to fill. And when you're located around the corner from another recently opened Italian restaurant that serves Bucatini all'Amatriciana the way you'd eat it in Milan, your pasta game had better be strong.
If, that is, you're trying to compete on purely culinary terms. Figo36 seems to have another goal. Figo is Italian slang for "cool," and the team at Menagerie Hospitality Group appears more concerned with vibe than food. It's a place for TikTokers and influencers with appetites for late-night bites and colorful cocktails on a patio. Visual interest isn't the issue here. It's that Executive Chef Kyle Gaddas' menu is, for the most part, unremarkable—meatballs, calamari, pasta, pizza—and, like the drinks, too pricey for what it delivers. It stays open until midnight on Thursdays through Saturdays, though, which clues you in to the clientele it's aiming for—NoDa visitors who want some sparkle, selfies, and a bite to eat before they get back on the light rail.
Menagerie, which also owns The Vintage and The Wine Loft in South End, opened Figo36 in August in the former Orto space, just off East 36th Street—thus the "36"—near the light rail stop. Paul Verica closed Orto in December after less than a year; he later admitted his ambitious menu wasn't the best fit for the neighborhood, that it should have been more casual.
Figo may have overcorrected. Designer Monika Nessbach replaced Orto's Italian-garden aesthetic with a design you could call Golden Girls-meets-graffiti: floral and mauve banquette seating, teardrop-shaped rattan pendant lights, lots of greenery, and plenty of Instagrammable backdrops. Muralist Joe Dobson painted custom graffiti throughout the space, and the crew at The Savage Way installed a moss-art feature wall. Parked beside the entrance is the most obvious clue that Figo aims to tantalize optic nerves more than taste buds—a teal-and-pink Vespa.
The team at The Vintage designed the drink menu, which includes a variety of Italian wines by the glass or bottle, plus cocktails like the Figo Aperol Spritz ($15) and Come to Grappa ($16). Fine—but then came the food. I asked my server if the pasta was made fresh and in-house. Yes, she replied. We make it fresh every week. (OK, then.)
Entrées include a fish special (market price) and Bone-In Pork Chop ($32). The Chicken Marsala ($28) is well sauced and seasoned, but the side of wild mushroom risotto is thicker than porridge and lacking in flavor. The Rigatoni Pulled Pork Ragu ($22) is a generous bowl of rigatoni topped with a sprinkle of Parmesan. The pork is a good match for the tubes of pasta, but the ragu doesn't register as sauce; it's more like a meat crumble. Of the four 12-inch pizzas, the Black Garlic and Eggplant ($18) is the most inventive—and all are just OK.
The burrata bar isn't a literal "bar" where a chef prepares it in front of you. You get a small ball of Burrata ($8) and choose from a rotation of pairings like pomegranate reduction, fresh basil, and lemon-tomato garlic marmalade. Each order comes with warm focaccia, and this is where Figo gets it right. The spongy bread is drizzled, but not soaked, in olive oil and topped with a sprinkle of rosemary and sea salt. You can also slather it with Whipped Ricotta ($16), a velvety spread with notes of lemon, rosemary, and honey. You could order this with a glass or two of Chianti and split it with a friend for an appetizer or delightful late-night snack. But it's not a great sign when the bread is the highlight of your meal.
I visited Figo36 a week after it opened, and every team deserves time to adjust, especially considering its nearby competition. It's a tough time and town to try yet another variant of the nuovo-Italian trend that's swept through Charlotte over the last five years, even if you're catering to a crowd that's not strict about the definition of "fresh." More affordable dishes with less emphasis on flash over substance would go a long way toward making Figo actually figo.
Don't leave without trying: Whipped Ricotta ($16) with lemon-soave reduction, rosemary honey, and giardiniera (an Italian relish), surrounded by wedges of warm focaccia.
Figo36
416 E. 36th St., Ste. 600
Hours:
4-11 p.m. Tuesday-Wednesday
4 p.m.-12 a.m. Thursday-Saturday
KNOW BEFORE YOU GO:
Guests must pay to park in the adjacent parking garage. Download the ParkMobile app in advance so you're not late for your reservation—and pay for 30 more minutes than you think you'll need, because they're serious about ticketing.